When will 'Orange is the New Black' season 6 premiere on Netflix? Here's what we know.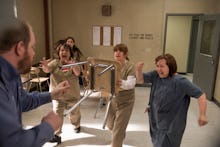 Fret not, Orange is the New Black fans: The show is set to return for not one, but two more seasons. After only leaping three days into the future with season five, the women of Litchfield still have plenty of time to do.
The series received a three season renewal in 2016 — unprecedented for a Netflix original show — thus solidifying its status as the streaming service's biggest hit. Almost seven million people watched the show's season four premiere in the two days after it began streaming that year.
So, when will season six of Orange is the New Black premiere? No date has been announced yet, but a new season has hit Netflix every year since its July 2013 release. Although season one premiered on July 11, every season after that has been released within the first or second week of June.
Showrunner Jenji Kohan was ecstatic at the time of the renewal, declaring, "Three more years! Not quite a political term, but still plenty of time to do some interesting things."
Although Piper Kerman's memoir, Orange is the New Black: My Year in a Women's Prison, on which the show is based, only spans 13 months, the women of Litchfield have already been in prison for 10 months at this point. That's not to say the show is closely following Kerman's memoir: Kohan has already admitted that Kerman's story was just a launching pad for telling the stories of Litchfield's more underrepresented populations.
If Kohan's writing team continues to mine brilliant, insightful humor from the racial tensions and queer love stories of Litchfield, then Orange is the New Black will continue far past 2019. After all, the show seems as popular as ever with none other than Sesame Street even doing an parody.
Mic has ongoing Orange is the New Black coverage. Check out our main Orange is the New Black hub here.