Out of Office: The definitive guide for foodies on vacation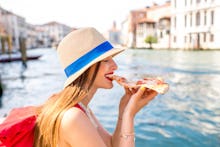 If you're the kind of person who can't sleep because you're so excited for breakfast and you plan dinner while you're eating lunch, you're probably the kind of person who would plan your vacation around food — and the kind of person we like.
The ways you could dedicate your travels to food are endless: culinary retreats, fried chicken road trips, entire trips planned around a restaurant reservation. Thank us when you wake up from your food coma.
Don't just leave food to chance on holiday — make it yourself! For cooking enthusiasts eager to expand their at-home dinner repertoires, or those perhaps considering a new career path, these application-free cooking schools will make for the tastiest vacations you've ever had. What better way is there to learn the culture and pick up a souvenir that won't end up collecting dust?
Food-obsessed travelers use the World's 50 Best Restaurants list to rethink their restaurant bucket lists every year. The 2017 list comprises incredible destinations like New York City, Lima, Peru, and Spain's Basque Country. And don't worry — we did the legwork so you can snag a table and plan a trip around the reservation.
Here's how to actually get into these coveted restaurants across the globe — and what it will cost you.
Have a deep love of comfort food? Fried chicken might just be your ultimate food of summer, then — so why not embark on a road trip dedicated to tasting the best fried chicken in your surrounding states?
Mic asked Yelp to identify the best places to order fried chicken in every state. After analyzing businesses with a large concentration of reviews mentioning "fried chicken," Yelp created an exclusive ranking of those spots by crunching the data for the total volume and ratings.
A cross-country road trip to taste America's best fried chicken dishes may sound ambitious, but it's undeniably tempting. Don't forget to pack extra napkins before you set off! 
Attention beer lovers: If you've exhausted Vermont's offerings, you might consider New York State as your next beercation destination.
The Empire State is not widely considered a vacation spot for beer lovers. But New York Governor Andrew Cuomo wants to change that by reviving brewery culture across New York to further boost tourism.
"If you asked me [whether New York is a beer destination] about 10 years ago, the answer would have been a resounding no," Josh Bernstein, a Brooklyn-based beer and spirits writer, said in a phone interview. New York is catching up and is "gradually becoming an exciting place for great beer," Bernstein said.
For better or for worse, social media now plays a major role in food. Some consider the aesthetics of plating and dining spaces to be just as important as the taste of the food itself. Restaurateurs are adjusting to the demand for Instagram-worthy experiences, putting design at the forefront of their businesses.
Mic asked several prolific food Instagrammers to share their secrets for picture-perfect success. From picking the right table to moving around the table settings, these tips are near guaranteed to help you nail your next food shot. A picture is worth a thousand words, but the perfect Instagram could be worth a thousand likes.
Your hunger for food-centric travel still not satiated? Salt and Straw, an ice cream shop in Portland, Oregon, debuts innovative menus each month — and this month, the shop is
made from food waste. The ice cream ingredients that would have otherwise been thrown away include items like bourbon-soaked Oregon cherries, overripe strawberries and extra movie theater popcorn. 
STAY UPDATED 
Ready for your next adventure? Get our weekly guide covering where to go and what to eat delivered to your inbox.