Trump attorney says James Comey lied under oath during Senate testimony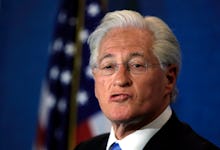 In a statement delivered about two hours after the conclusion of James Comey's testimony, President Donald Trump's personal lawyer accused the former FBI director of lying under oath before the Senate Intelligence Committee.
Marc Kasowitz, the attorney representing Trump in the Russia investigation, said Trump never told Comey, "I need loyalty, I expect loyalty." Comey testified on Thursday that in a private meeting, Trump asked him for "loyalty" as the then-FBI director was digging into allegations against ousted national security adviser Michael Flynn.
"Of course, the office of the president is entitled to expect loyalty from those who are serving in the administration," Kasowitz said after accusing Comey of lying. He also tied Comey to damaging anonymous leaks from within federal agencies, saying "Mr. Comey has now admitted he is one of those leakers."
Kasowitz also accused Comey of leaking "privileged information" by giving the New York Times access to memos of Comey's meetings with Trump.
But the Times story wasn't published until after Trump had already told NBC's Lester Holt about his conversations with Comey, mentioning that the Russia investigation factored into his decision to fire Comey. For that conversation to be a leak of "privileged information," said information would have to have been first revealed by Comey.
Kasowitz reiterated the White House's view that Trump does not believe Comey was pressured when he was asked to "let it go," in reference to the investigation into Flynn. He also highlighted that Comey said Trump never directed him to end the larger Russia probe.
Trump spoke Thursday at the Faith and Freedom Coalition's annual conference at the same time that former FBI Director James Comey was testifying before Congress. Without making specific mention of the proceedings on Capitol Hill, Trump told attendees in a speech that he and his supporters "are under siege" but "will come out bigger and better and stronger than ever."