Pokémon Go Fest Chicago Event Dates: Unown spotted in invitation may point to rare gen 2 appearances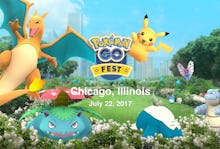 Pokémon Go Fest will officially take place on July 22 in Chicago. First hinted at in the original Pokémon Go trailer, group events are a good way to bring players of the game together to catch rare Pokémon. At the very least, waiting for an event like Pokémon Go Fest would explain why Niantic is so hesitant to put legendary Pokémon in the game.
It's unclear which rare Pokémon we can expect to come to Chicago in mid-July, but there is one that is hidden right in the PoGo Fest event invite: Unown.
Pokémon Go Fest update: Players flocking to Chicago could encounter Unown
Pokémon trainers will flock from all over the country to visit Niantic's Pokémon event, and they may be greeted by an Unown upon their arrival.
Looking closely at the image coupled with the announcement of the event, an Unown can be seen right above the Heracross pictured. Here's the Pokémon Go Fest image.
Zoom and enhance!
Pro level detectives can spot the tiny Unown right above Heracross's head. Even better sleuths can see there was one hiding in plain sight above Blastoise's head the whole time.
One tiny Unown that's hard to see could arguably be an accident, but two included in the Pokémon Go Fest photo is deliberate. Players can likely expect to catch the alphabet-themed Pokémon while visiting the windy city along with other rare monsters like Larvitar. It's impossible to say which letter Unown will be available to catch over in Chicago. Regardless which make an appearance, it certainly spells trouble for fans of the app that won't be in attendance.
Tickets to Pokémon Go Fest go on sale on June 19.
Check out more Pokémon news and coverage
Read more coverage on the rumored Pokémon Stars, including Nintendo7;s comments on the potential Switch game and news about GameFreak putting up a now hiring sign. Watch how well Sun and Moon could translate to Switch and why we won't see the game come to the home console this year. At least we're getting portable Pokkén and Gold and Silver again.