We need to talk about Lorde's incredible style revamp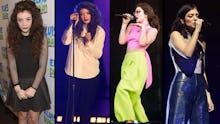 When the world first met Lorde back in 2013 with the release of her first album, Pure Heroine, her style was, well, nothing to write home about. Think a teen who can't let go of Hot Topic, it was just a lot of black, with some mesh and lace thrown in for kicks.
It was doomy and gloomy and moody and for a woman like Lorde, just getting her feet wet with mainstream stardom, it was honestly wise. No one else looked like her, so she was able to set herself apart with fashion. But still, it was obvious that she had room to grow and hadn't yet found a style that was truly hers and not a version of Lydia Deetz in Beetlejuice.
Finally, in 2017, we think she has now officially found the style that works for her. That being said, her fashion choices lately, while promoting her soon-to-be-released album Melodrama, has been inspiring, strange, amazing, striking and surprising — which is exactly how a person like Lorde's style should be.
Take, for example, the slouchy pink suit she wore to a radio show in March. It was feminine and masculine and cute and comfy — something that feels quintessentially like Lorde now, bucking all trends in favor of dressing distinctly as herself, and not always as Wednesday Addams. (Not that there's anything wrong with that.)
Then for Saturday Night Live, Lorde showed us what this style revamp really had in store, wearing a slightly see-through metal shirt from Adam Selman with high-waisted pants.
It was a far riskier look than anything we've seen from Lorde — much credit to her stylist Karla Welch — and incidentally set the tone actually for every single look she's pulled out since.
At Coachella, Lorde wore a custom glittery bustier and shiny pants...
And then wore a black sparkly jumpsuit with an elaborate choker and a neat pair of Adidas sneakers.
It's that kind of high-and-low style that Lorde has now made her signature.
That was seen again at another festival in May, to which she wore a black and white checkered two-piece by Dior and a black tube top.
Again, it was this mix of high and low, masculine and feminine, that's almost like early Gwen Stefani's style, but better.
Now, for the Billboard Music Awards, Lorde amped things up, arriving not in black (for once) but a bright red ornate dress from Givenchy.
On stage though, she was back to her Lorde-y self, wearing Levi's high-waisted jeans and Adidas sneakers with a see-through black blouse and lacy bra.
Three years previous, she showed up to the Billboard Music Awards looking like this.
So it's an improvement.
Less than a week later, Lorde was back to reinventing her own personal style, showing up to BBC Radio 1's music festival in a lime green and pink ensemble with matching glasses.
We'll take 10, to be honest.
Now to the Governors Ball in New York in June, Lorde was back to her all-black-everything ways, but with a fun twist. For her set, she wore a see-through shirt and bandeau, but for part of her performance, she slipped on a white veil by Ann Demeulemeester.
If you look up the word "drama" in the dictionary, this pic should probably pop up.
Finally, we have to talk about Lorde's very recent appearance at Bonnaroo, which saw her embrace color once again, and in a very fabulous way. She wore a see-through floral Celine jumpsuit, which was all psychedelic and chic at the same time, a near-impossible feat.
And what are those on her feet? Ah yes, her Adidas.
Apparently, you can take Lorde out of her goth attire and her mesh and her chunky black platforms, but you can now never get her out of her Adidas. Honestly we don't blame her.