Philadelphia's new pride flag honors LGBTQ people of color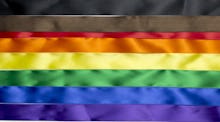 The pride flag is getting even more colorful.
In celebration of LGBT Pride Month, the city of Philadelphia has revamped the iconic pride flag. The six colors we've come to associate with the flag are intact, but the flag includes two new stripes: black and brown.
According to a statement on the website for the campaign, More Color More Pride, the flag is meant to recognize LGBTQ people of color and recognize ways people can make the community more inclusive.
"To fuel this important conversation, we've expanded the colors of the flag to include black and brown," the statement reads. "It may seem like a small step. But together we can make big strides toward a truly inclusive community."
An accompanying campaign video talks about the many ways the LGBTQ community can be less than inclusive toward LGBTQ people of color.
Aside from fueling a conversation, the flag is also a sign of progress in the Philadelphia community, which has been working to address racism in the LGBTQ community, Philadelphia reports. In the past six months, the Philadelphia Commission on Human Rights has mandated sensitivity trainings for bars and nonprofits catering to the LGBTQ community.
In April, a local HIV-positive artist stopped taking his HIV meds to protest a lack of transparency and institutional racism at Mazzoni Center, Philadelphia's LGBTQ community health center.
According to Philadelphia, the city will unveil the flag Thursday at an official event at city hall.
Gilbert Baker constructed the original pride flag, which included turquoise and pink alongside the other six colors, in 1978. Baker died in March and Google honored him with a Google Doodle earlier this month.