Bill Cosby allegedly told police he gave Andrea Constand pills before "consensual sexual encounter"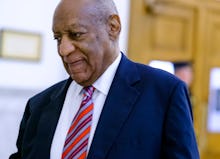 Bill Cosby told police in 2005 that he had given Andrea Constand Benadryl to help her relax, and claimed that their subsequent sexual encounter had been consensual, according to testimony given by one of the interviewing officers on Thursday.
During the fourth day of Cosby's Norristown, Pennsylvania, trial, Richard Schaffer of the Cheltenham Township Police Department rehashed the initial 2005 investigation into Constand's allegation that the now-79-year-old Cosby had drugged and sexually assaulted her at his home in 2004.
According to Reuters, the testimony is part of a larger effort by prosecutors to piece together Cosby's statements to police and in a sworn deposition from a 2005 lawsuit in order to show that he repeatedly gave women medication before sexually assaulting them.
Earlier this week, Constand, a former Temple University employee, testified that Cosby had given her pills that left her feeling woozy and unable to fend off his advances. Her claims were corroborated by another accuser, Kelly Johnson, who also testified to having been given pills by the 1980s sitcom star.
According to Schaffer, Cosby described a physical encounter that followed on the couch as "petting." When asked whether or not Constand had been conscious during the encounter, Cosby told police that she had been and denied that she ever told him to stop.
Although the number of women to have made similar public allegations of assault against Cosby totals more than 50, most of the women's cases are now too old to prosecute.