'Injustice 2' Red Hood DLC release date: How to get the classic DC villain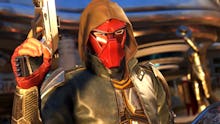 We've known about some of the Injustice 2 DLC characters for a while, but we never knew when they would be coming to the game. Thanks to NetherRealm and GameSpot, now we do; Red Hood will be the first DLC character to release for Injustice 2.
Red Hood coming to Injustice 2 on June 13
If you've purchased the Deluxe Edition of Injustice 2 or the Fighter Pack 1 DLC, you can start playing as Red Hood on June 13. That's less than a week away, to be clear. Fighter Pack 1 is $20 and also includes Starfire and Sub-Zero of Mortal Kombat fame, but NetherRealm hasn't given release dates for those two yet.
Red Hood is a guy who wears a red hood and uses gadgets and weapons in battle. He looks more reminiscent of characters like Robin or the Joker than the more fantastical characters like Doctor Fate.
More gaming news and updates
Check out the latest from Mic, like this essay about the sinister, subtle evils lurking in rural America that Far Cry 5 shouldn't ignore. Also, be sure to read our review of Tekken 7, an article about D.Va's influence on one Overwatch player's ideas about femininity and an analysis of gaming's racist habit of darkening villains' skin tones.