Bodies recovered off Myanmar's coast after military plane goes missing with more than 120 aboard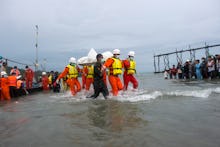 Twenty-nine bodies were recovered off the coast of Myanmar on Thursday, more than 24 hours after a military plane carrying 122 people went missing, Reuters reported on Thursday.
The military plane was carrying soldiers and their family members as well as the plane's crew, Reuters reported. 
Among the passengers were at least 15 children. The aircraft had been traveling from southern Myanmar to the city of Yangon when it lost contact over the Andaman Sea just 29 minutes after takeoff Wednesday morning.
There were eight children among the 29 bodies that rescuers recovered on Thursday. Debris believed to be from the missing Y-8-200F transport plane, including a wheel, life jackets and luggage, were recovered earlier, according to Reuters.
The search for survivors will continue, Myanmar's military said, according to Reuters. Navy ships, as well as military planes and helicopters, have been deployed, and civilian boats will also reportedly assist with the search efforts.
What caused the plane's disappearance is still unknown.