Here's what Congress was doing while you were watching Comey testify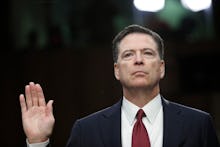 While former FBI Director James Comey's Thursday testimony blanketed the news and left a nation riveted (and drunk), congressional Republicans quietly moved forward some of their major agenda items, including trying to repeal Wall Street reform and moving the American Health Care Act forward.
As Senate Intelligence Committee members met with Comey in a classified setting, the House began debate on the Financial Choice Act — a bill that would kill many of the Wall Street regulations created following the 2008 financial crisis.
House Democratic leaders Nancy Pelosi (D-Calif.) and Steny Hoyer (D-Md.) spoke out against the bill, which they dubbed the "Wrong Choice Act," in a speech on the House floor Thursday afternoon after Comey's testimony.
The House ultimately passed the bill along party lines Thursday afternoon, sending it to the Senate.
And Senate Republicans have moved closer to coming up with a health care bill they say will make good on their promise to "repeal and replace Obamacare."
Sen. Bill Cassidy (R-La.), a physician by trade who has expressed concerns with the House's version of the AHCA, placed the Senate's odds at passing the health care bill "better than 50-50" in an interview with New York Times.
On Wednesday, during the lead-up to Comey's testimony, Senate Majority Leader Mitch McConnell filed a motion to fast-track the AHCA, the GOP's health care bill, which passed the House in May. That means the Senate could vote on the yet-to-be-seen bill without any committee hearings or public input.
On Thursday, the Hill reported that two key GOP senators, who had both expressed skepticism over the AHCA's Medicaid expansion cuts, are now open to phasing out that expansion. Sens. Rob Portman (R-Ohio) and Shelley Moore Capito (R-W.Va.) are key to Senate Republicans' ability to earn the 50 votes needed to pass the bill.
Democratic elected officials sent warnings to their party to keep tabs on congressional Republicans, as the attention and media coverage was stuck on Comey.
"Keep careful track of what elected Republicans do over the next few days and weeks," Sen. Brian Schatz (D-Hawaii) tweeted Thursday afternoon, referring to Senate Republicans crafting their health care bill behind closed doors. "This will define their careers and their legacies."