'Mass Effect: Andromeda' Romance Options Update: Jaal's bi as of Patch 1.08 and fans love it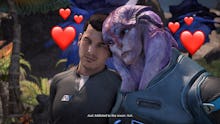 In the time since Mass Effect: Andromeda first hit shelves back in March, fans have been begging BioWare to add more male-male romance options. Today, with the arrival of patch 1.08, they finally got their wish: Jaal is now a potential romantic partner for Scott Ryder — and it's time to celebrate.
Of course, it's worth noting that the additional romance doesn't undo the neglect these players felt for the game's first three months. It also doesn't change the fact that male-male romance options still rank the lowest in comparison to all other romance types across the series' history. But for now, fans seem content enough to celebrate, if only for a moment.
Mostly, because it's pissing off those who are whining that Jaal is bi now.
Mass Effect: Andromeda fans celebrate — in part to spite the homophobic backlash
One of the most active spaces for the Mass Effect: Andromeda fandom lives on Tumblr, where a select few have become unreasonably enraged at Jaal's sudden fondness for burly, strong men. For these fans, they claim it's some violation of the sanctity of his original character, or that something is being taken away from them by making Jaal bi — but really, it's hard to see this as anything but thinly veiled homophobia.
"We are in a community where being heterosexual is seen as a offense," thelittlemonsterlover wrote. "A community that demands that a character changes his nature and sexual orientation to adapt to what they want, and who use the word 'homophobic' to attack anyone who doesn't agree with that."
Luckily, these complaints — which mischaracterize the #MakeJaalBi campaign as militant fan extremism rather than a simple plea for equality — seem to be few and far between. Most seem to be thrilled that BioWare responded to fan feedback, and they're more than happy to rub it in the face of anyone who feels otherwise.
More gaming news and updates
Check out the latest from Mic, like this essay about the sinister, subtle evils lurking in rural America that Far Cry 5 shouldn't ignore. Also, be sure to read our review of Tekken 7, an article about D.Va's influence on one Overwatch player's ideas about femininity and an analysis of gaming's racist habit of darkening villains' skin tones.