3 key takeaways from day 4 of the Bill Cosby sexual assault trial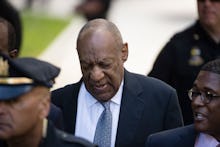 After three days of opening arguments, testimony from Kelly Johnson, her mother and testimony and intense cross examination with Constand herself, day four of the Bill Cosby trial brought two key witnesses to the stand. First was Sergeant Richard Schaffer, the police officer who took Cosby's statement in 2005 when Andrea Constand initially reported the alleged assault to police, and Constand's neighbor at the time, Purna Rodman-Conare.
Additionally, perhaps the most damning evidence to date — the police report from Constand's 2005 allegations — was shared with the court. During his cross-examination of Schaffer, Cosby's lawyer, Brian McMonagle, tried to find discrepancies in the 2005 police report, including the date of the alleged assault.
Here are the big moments from Thursday's proceedings.
1. Cosby allegedly told police in 2005 that he gave Constand "allergy pills" to relax.
In the police document introduced in court on Thursday, Cosby admitted to police that he had given Constand "allergy pills" because they had been talking about her stress and inability to sleep. The documents also disclosed that Cosby claimed that he did not engage in sexual activity with Constand: "Never asleep or awake."
The statement read to the jury quotes Cosby saying, "I never intended to have sexual intercourse, like naked bodies, with Andrea. We are fully clothed. We are petting. I enjoyed it. And then I stopped, and I went up to bed."
2. Cosby's defense doubled down on portraying Constand as an unreliable witness to her own alleged assault.
During cross-examination, McMonagle argued that Constand's testimony was inconsistent, going on to suggest that it was for that reason that former District Attorney Bruce Castor chose not to file charges against Cosby at the time.
As it did during Wednesday's cross-examination of Constand, the defense took the position that Constand's inability to recall the precise date of the alleged assault at the time she made the report should cast suspicion on the rest of her story.
3. Even more celebrities showed up to support Cosby in court
After Keshia Knight Pulliam and Sheila Frazier showed up to court with Cosby earlier in the week, on Thursday comedians Joe Torry and Lewis Dix accompanied him to court, according to NBC.
Phylicia Rashad is expected to make a showing in the days ahead. His wife, Camille Cosby, has yet to appear.
Follow Mic's coverage of the Bill Cosby trial in our main hub here.