'ESO: Morrowind' Battlegrounds PvP: What changes does this new mode bring to 'Elder Scrolls Online?'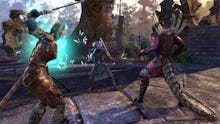 The Elder Scrolls Online: Morrowind is out, and it brings a whole new mode of Player vs Player (PvP) with the premiere of Battlegrounds. Unlike PvP in the base game, Battlegrounds is a much more concentrated game mode that puts three teams of four players against one another in Team Deathmatch, Domination or Capture the Flag game types.
ESO: Morrowind Battlegrounds PvP: What is the difference between the new game types?
Battlegrounds new Deathmatch mode is all in the name. You and your team try to kill the other two teams more than they kill you. Kills earn points, and whichever team has the most points at the end of the match wins.
If you want something a bit more complicated, you can take part in a traditional match of Capture the Flag. Predictably, it works much the same in The Elder Scrolls Online: Morrowind as it does in a regular first-person shooter (FPS). You try to get the enemy's flag and return it to your base to score points.
Domination is Battleground's "King of the Hill" game type. It has you capturing and holding areas on the map for points. The longer you hold a designated area, the more points you get.
More gaming news and updates
Check out the latest from Mic, like this essay about the sinister, subtle evils lurking in rural America that Far Cry 5 shouldn't ignore. Also, be sure to read our review of Tekken 7, an article about D.Va's influence on one Overwatchplayer's ideas about femininity and an analysis of gaming's racist habit of darkening villains' skin tones.