St. Louis workers remove portion of 103-year-old Confederate statue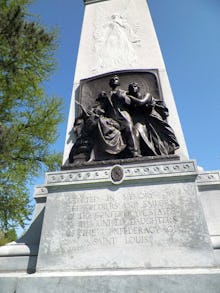 Workers removed a portion of a 38-foot-tall granite monument honoring Confederate soldiers and sailors in St. Louis' Forest Park on Thursday, according to the Associated Press, but it may take weeks for the rest of the statue to come down.
Koran Addo, a spokesman for Mayor Lyda Krewson, told the AP that while work crews had hauled away the tip of the monument, it was unclear when the rest would be removed.
The 103-year-old monument shows a Confederate soldier leaving his family to go fight in the Civil War, flanked by an angel. An inscription in the stone reads, "in memory of the soldiers and sailors of the Confederate States By the United Daughters of the Confederacy of Saint Louis."
The Forest Park statue is the latest in a string of old Confederate tributes around the United States to be targeted for demolition. In New Orleans, removal crews were forced to work under the cover of darkness to rid the city of the first of four Confederate monuments slated for removal after crowds assembled to protest turned violent.
Although St. Louis residents have long requested that the Forest Park statue be removed, elected city officials had refused to use taxpayer dollars to fund the operation. Instead, residents offended by the statue — particularly in light of the fatal 2013 police shooting of Ferguson, Missouri, teenager Michael Brown — were forced to drum up money by way of a GoFundMe campaign.
According to AP, the final resting place of the Forest Park monument is still undetermined, as no museum or park has agreed to accept it as of yet.