Donald Trump accuses James Comey of making "false statements and lies"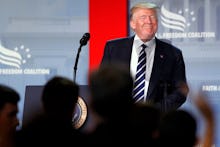 President Donald Trump broke his twitter silence Friday, accusing former FBI Director James Comey of lying during his bombshell testimony, yet still declaring himself to be vindicated.
"Despite so many false statements and lies, total and complete vindication...and WOW, Comey is a leaker!" Trump tweeted Friday morning, a day after Comey's bombshell testimony.
Trump's tweet amounts to accusing Comey of lying under oath — a serious charge against Comey, a career law enforcement official.
On Thursday, Trump's lawyer accused Comey of lying under oath. Trump's lawyer denied that Trump ever demanded loyalty, despite Comey's sworn testimony that says otherwise.
As for vindication, Comey did say Trump wasn't personally under FBI investigation while Comey was director of the FBI.
But Comey did suggest that Trump firing him because of the Russia investigation could become an obstruction of justice probe from special counsel Robert Mueller.