UK Election Results: Conservatives lose majority in huge blow to Prime Minister Theresa May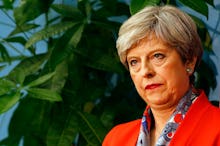 Prime Minister Theresa May's attempt to bolster her position in the upcoming Brexit negotiations failed Friday after conservatives lost their majority in the snap U.K. election.
May had announced the early general election in April, looking to strengthen her conservative majority as Britain prepares to withdraw from the European Union. 
But polls show Conservatives now have fewer seats than they started with, winning 318 of 650 seats in the House of Commons — eight short of a majority, and 13 short of what they won in 2015.
Labour, meanwhile, appeared to make significant gains, winning 261 seats — 29 more than in 2015. 
The results have cast Brexit talks, set to begin June 19, in a shadow of "uncertainty," according to the BBC. 
The vote was also seen as a sharp blow to May, who faced calls to step down. 
"If there is a message from tonight's result, it is this: The prime minister called the election because she wanted a mandate. The mandate she has got is lost Conservative seats, lost votes, lost support and lost confidence," Labour leader Jeremy Corbyn said. "I think that's enough for her to go, actually."
But the BBC reports that May will not step down, and the prime minister called for "stability" in the aftermath of the election that resulted in a hung Parliament.
"If, as the indications have shown, if this is correct, that the Conservative Party has won the most seats and probably the most votes, then it will be incumbent on us to ensure we have that period of stability and that is exactly what we will do," May said.
"Doing what is in the national interest," May continued. "That is always what I have tried to do in my time as a member of Parliament. My resolve to do that is the same this morning as it always has been."
May received the queen's approval to form a new government by linking with Northern Ireland's Democratic Unionist Party, which won 10 seats. 
"I will now form a government," May said in front of 10 Downing Street after speaking with Queen Elizabeth. "A government that can provide certainty and lead Britain forward at this critical time for our country."
But Corbyn, who won his north London seat, said that Labour would work to build a Britain that "works for the many, not the few."
The projected election results also show Liberal Democrats winning 13 seats, a gain of five, and the Scottish National Party winning 35, a loss of 21. 
The British pound took a hit as the election results cast U.K. politics into chaos. But Derek Halpenny, a foreign exchange strategist at Japan's MUFG, told the Financial Times the "probability of a softer Brexit and a pullback on fiscal austerity will certainly help limit the negative impact of this lurch into political uncertainty."
According to BBC diplomatic correspondent James Landale, May's failed gamble will now mean the government must "rethink" its strategy in exiting the European Union.
"[May] is not stronger. She has fewer seats than she started with," Landale wrote. "As a result, it will now be hard for the government — whatever shape that government will be — to start talking to the EU in nine days time as planned without rethinking its strategy."
June 9, 2017, 9:09 a.m. Eastern: This story has been updated.