Katy Perry, Taylor Swift Feud: Swift's songs hit streaming sites same time as 'Witness' album drops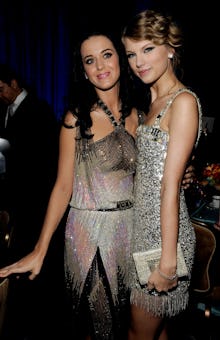 The friction between Taylor Swift and Katy Perry appears to be growing even more tense and petty, as fans fed into the pop stars' ongoing feud Friday.
Swift fans were ecstatic to find the pop singer put her albums, including Red and 1989, on streaming services Friday at midnight to celebrate selling 100 million song units. She had infamously removed her music from Spotify in November 2014. But some believe her decision to return to platforms like Spotify was done to upstage the release of Katy Perry's fifth studio album Witness, which also happened to be released Friday at midnight.
Swift believed that streaming services would not return a profit that matched the value of the time it takes to create her music. "Piracy, file sharing and streaming have shrunk the numbers of paid album sales drastically, and every artist has handled this blow differently," Swift wrote for the Wall Street Journal in July 2014.
Of course all of this is speculation, but fans can't seem to overlook the timing of her business move being on the same day of Perry's album drop. Swift's news also comes just as Perry began opening up about her feud with Swift.
"I wish that I could turn the other cheek every single time, but I'm also not a pushover, you know?" Perry told NME in a feature Friday. "Especially when someone tries to assassinate my character with little girls. That's so messed up!"
In May, Perry told James Corden on an episode of Carpool Karaoke that Swift "started" their beef, which stemmed back to a disagreement over backup dancers. She said Swift refused to speak to her about the issue when she reached out.
"It was a full shutdown and then she writes a song about me, and I'm like, OK, cool, cool, cool, that's how you want to deal with it? Karma!" Perry explained.
Perry is referring to Swift's song "Bad Blood." In 2014, Swift — although she didn't mention names — made their riff public when she told Rolling Stone that the song was written about another female artist who tried to "sabotage" her 2013 Red tour. Three dancers who went on tour with Perry in 2011 later joined Swift's tour in 2013. Lockhart Brownlie, one of the dancers, told the Examiner that when Perry asked them to work on her 2014 Prismatic tour, the trio left Swift's tour before it ended.
In May, Perry released "Swish Swish," a house pop track featuring Nicki Minaj, believed to be a diss track taking aim at Swift and the response to "Bad Blood." Perry denied that her album Witness had any songs directly taking aim at "any one person."
Time will only tell whether two of pop's biggest stars can settle their beef in the future.
Mic has ongoing Katy Perry coverage. Please follow our main Katy Perry hub here.