'House of Cards' Season 5: Is LeAnn Harvey's fate really sealed?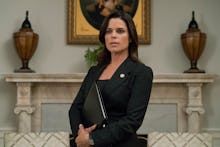 (Editor's note: Spoilers ahead for season five of House of Cards.)
The fifth season of House of Cards concluded with a major shakeup in the White House. Assuming Netflix's acclaimed political thriller returns for another season — it has not yet been renewed — viewers will see Claire Underwood as the undisputed president of the United States, while her husband, Frank, is on the outside of the political sphere and looking in.
How the political power couple's marriage holds up following Claire's decision not to pardon Frank is just one of many questions audiences likely have following the series' fifth season. Another lingering question may have to do with the fate of one of the couple's many loose ends: LeAnn Harvey.
Played by Scream's Neve Campbell, Harvey was one of the Underwood's political operatives over the last two seasons, and thus she became privy to a whole lot of damning information. The Underwoods also seemed to have blamed Harvey for Aidan Macallan's decision to flee the country with a whole lot of hacked classified data. This left the character in a horrible predicament.
As the season neared its end, Harvey was brought back into Claire's administration as chief of staff, only to be let go for a lack of political capital. Shortly after, she was run off the road, likely in a "hit" orchestrated by Frank, who looked on from his laptop. Later, viewers see LeAnn's mangled car, but never get a good look at a body.
While we are certainly led to believe that she has died — and Doug is unable to reach her in the aftermath — could it be that Harvey survived the crash? Since season six is yet to be fully written, the answer is that it probably could go either way.
Asked whether it is OK for viewers to not quite count LeAnn out, House of Cards co-showrunner Frank Pugliese told the Hollywood Reporter, "I think you can assume that. Any assumption after that I think is OK."
In a separate interview with the Hollywood Reporter, Campbell made sure not to let anyone in on the secret about her character's fate. "I can't talk about that," she said.
It sounds like viewers will have to wait for season six — assuming there is one — to learn with any certainty what actually happened to Harvey.
House of Cards season five is now streaming on Netflix.
Mic has ongoing coverage of House of Cards. Please follow our main House of Cards hub here.