'Mass Effect: Andromeda' Update: Every new Jaal and Scott Ryder romance scene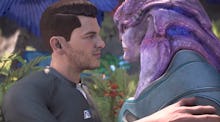 Mass Effect: Andromeda patch 1.08 is finally here, and it's a doozy. It finally allows Scott Ryder to romance Jaal — something that fans had been campaigning for since the game first came out.
Of course, if you're a hardcore Mass Effect fan and already beat the game before this patch was released, the only way you can romance Jaal is by starting a new game. So, naturally, you might just be hoping to see what shacking up with Jaal is like by watching videos on the internet. We get it. It's not creepy.
Lucky for you, we've got all the new romance scenes between Scott and Jaal embedded below so you don't have to feel like you're missing out.
Mass Effect: Andromeda romance: All scenes with Scott and Jaal
The best roundup of every romantic encounter we've found so far comes courtesy of YouTuber DanaDuchy. Be warned: Some of the saucier romance scenes towards the end are NSFW.
More gaming news and updates
Check out the latest from Mic, like this essay about the sinister, subtle evils lurking in rural America that Far Cry 5 shouldn't ignore. Also, be sure to read our review of Tekken 7, an article about D.Va's influence on one Overwatch player's ideas about femininity and an analysis of gaming's racist habit of darkening villains' skin tones.