Kylie Jenner clothing line accused of copying from indie designer — and it's not the first time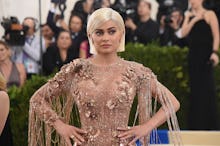 Like sister, like sister.
Just days after Khloé Kardashian was accused of ripping off pieces from an indie designer in her Good American line, Kylie Jenner is now being accused of exactly the same thing.
On Thursday, Jenner's latest collection for her clothing line dropped, and it was all about camouflage. There are camouflage sports bras and lighters and hats and pants and bikinis.
Jenner's so stoked about this launch that she's got billboards up in California.
Obviously, things like camouflage bikinis and track pants are nothing new. Destiny's Child, as many will recall, helped popularize the print in its 2001 "Survivor" video. But one indie designer, Plugged NYC, is claiming that Jenner has ripped off these designs. In fact, it knows Jenner is a fan because it has sent her stuff to wear.
On various social media outlets, Plugged let that be known, releasing emails from the back and forth between Jenner's people and the brand.
The most blatant rip-off that Plugged is showing is the two-piece sets Jenner has just released, which are comprised of a sports-bra-like top and baggy pants.
Here's the Jenner version:
Here's Plugged's:
Plugged's camouflage collection just recently dropped as well.
In an Instagram post calling this out, Plugged's CEO, Tizita Balemlay, wrote: "I am the influence *drops mic. Copy and paste down to the shoes I used on my models The Kardashians will take your n*gga and brand."
So far, Jenner has yet to respond, but there are plenty of people upset about it on Twitter. With Jenner as successful as she is, supporting and then ripping off an indie designer isn't a good look to some.
To others, things like camouflage sweatpants just aren't something that original anyway.
All that in consideration, this is far from the first time Jenner has been accused of copying other smaller designers. In February, two different indie designers said she ripped off their designs of a flame tracksuit and a T-shirt. Before that, she was accused of copying artist Vlada Haggerty's work.
In a statement to Attn:, Balemlay wrote: "I can't remember one brand that sold matching camo two-pieces that weren't generic tees with cargo for ladies before my brand, unless it was custom. But hey ... money is power — smh I started my brand with pennies. Funny how someone can just take a whole movement bc of how much money and power they have. Kylie and her team have asked for all my camo pieces and swim and have had it for months."
Mic has reached out to Plugged for further comment.