Mississippi hotel deal highlights Trump conflict of interest concerns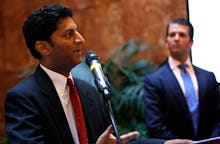 It's yet another ethically murky deal for President Donald Trump.
On Monday, Trump Hotels unveiled American Idea, its new, patriotic-themed budget chain that will bring hotels of a "bygone era" to smaller towns around the country — by partnering with a family that says the man now in the White House "changed the trajectory" of their lives.
Chawla Hotels, a small Mississippi group run by Indian-American immigrants Suresh and Dinesh Chawla, will convert three of its 17 Delta hotels into American Idea hotels. A fourth project in Cleveland, Mississippi, will become part of Trump Hotels' Scion brand and is slated to open in January, according to the Clarion-Ledger.
It's a partnership that Dinesh Chawla said by phone makes him feel as though he's won the business equivalent of American Idol and one he says will bring needed jobs to the Mississippi Delta.
But ties between Donald Trump and the Chawla family also highlight longstanding concerns about the blurry line between the president's businesses and his public office.
"Small fry" idea to "hundred-million-dollar mom and pop operation"
In the mid-1980s, a struggling V.K. Chawla — the father of Dinesh and Suresh — reached out to an American businessman in a Hail Mary attempt to score a $450,000 loan to open his first hotel.
The businessman's name: Donald Trump.
Trump phoned Chawla at his Mississippi convenience store and evidently told him the business was "small fry" and he declined to loan him the money. But Trump did tell Chawla that his idea and story were "wonderful" and advised him to apply for a Small Business Administration minority loan, which Chawla reportedly applied for and received months later.
Decades later, Dinesh Chawla said in a phone interview, the company is a "hundred-million-dollar mom and pop operation" with 17 hotels, all within an hour of one another in the Mississippi Delta.
Trump "changed the trajectory of our lives," he said.
In 2015, Suresh Chawla wrote a letter to the editor published in newspapers across Mississippi, telling the story of how Trump had "inspired" his late father to realize his American dream.
"Trump inspired him that cold day in 1988," Chawla wrote. "My dad very seldom told people about that phone call, but it changed everything for him and our family. It was something that I will never forget."
Trump told Chawla to "think grand"
His letter to the editor got Suresh Chawla invited to a campaign event in August for then-presidential candidate Trump in Jackson, Mississippi, at the behest of Gov. Phil Bryant.
That's when things get ethically questionable for Trump.
Chawla discussed one of his projects with Trump at a reception: a hotel project in Cleveland. Trump told Chawla to "think grand," and the $8 million Lyric Hotel and Spa soon became the $15 million West End District — which will be managed by Trump Hotels' Scion brand.
At that same event — where Trump and a roster of guest speakers, including Brexit leader Nigel Farage, would rally red state supporters to "Make America Great Again" — Suresh Chawla also met and "hit it off" with Donald Trump Jr., Dinesh Chawla said, and the two exchanged business cards.
In September, Suresh Chawla — who in his 2015 letter to the editor said he was not supporting Trump in the election — donated $25,000 to the Trump Victory committee and $2,700 to Donald J. Trump for President, according to Federal Election Commission records. He also donated $22,300 to the Republican National Committee.
In March, Dinesh Chawla said the Chawlas received a call from the senior vice president of acquisitions at Trump Hotels to discuss a possible partnership for their Scion and American Idea brands.
According to Dinesh Chawla, there was nothing political about the deal, which was reportedly finalized minutes before it was announced Monday in an unveiling at Trump Tower.
"I'm very cynical about politicians and the corruption of money and so forth," Chawla said. "It's more about the business and the guests than about the politics of it. There was no quid pro quo."
But Margaret Russell, an associate professor at the Santa Clara University School of Law, said in a phone interview that the partnership creates the "appearance of impropriety" and raises ethical concerns about Trump's potential conflicts of interest.
Trump put his businesses in a trust helmed by his sons, Eric and Donald Jr., when he took office, but can reportedly withdraw money and assets from the trust anytime he wants, Trump Organization attorney Alan Garten confirmed to ProPublica in April.
"This is going to go in the column of doubts that are being raised about the president's ethical principles," Russell said.
Trump's blurry line between business and public office
Dinesh Chawla acknowledges that the Trump brand will likely get certain benefits from the partnership.
"I don't think it hurts them to be working with immigrants," Chawla said by phone. "I don't think it hurts them to be working with people who have brown skin. I don't think it hurts them to be working with socially liberal people."
But, Chawla said, there is nothing improper about the partnership.
"We don't ask for special access," Chawla said.
He also said the deal is not about politics; he voted for former President Barack Obama, and he counts Obama and Rep. Maxine Waters (D-Calif.) among the politicians he's hosted at his hotels over the years.
Instead, Chawla said, the deal was about honoring his father, who died in 2015, and the "social enterprise aspect" of bringing opportunity to the small-town community where he's spent the last 40 years.
He jokes that the Trump Hotels vetted business "more thoroughly than some of [Trump's] Cabinet choices" — not a dig at the president, Chawla adds — and says politics have never come up during planning with Eric and Donald Jr., whom he describes as "easy, genuine people."
"We never discuss politics," Chawla said. "We discuss how to make this business incredible."
But for Russell, an expert on constitutional law, the partnership serves as an example of the problem of money in politics — particularly in the case of Trump, who has failed to adequately distance himself from his businesses and has numerous outstanding conflicts of interest.
"I think that it may be impossible to tell if it was an honest deal," Russell said. "It's maybe even impossible for them to tell because of the way [Trump] has blurred the line between his public office and private business."