The fallout from James Comey's testimony entangles Donald Trump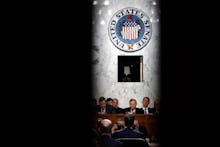 The responses to the former FBI director's Senate hearing were predictably partisan and incendiary. Remember: Comey called President Donald Trump a liar, "plain and simple," in his testimony Thursday.
Comey also said Trump pressured him to stop investigating former national security adviser Michael Flynn, leaked his own memos to help force creation of a special counsel and hinted that special counsel will investigate whether Trump obstructed justice. And in a closed hearing, Comey told senators Attorney General Jeff Sessions may have had a third undisclosed meeting with the Russian ambassador.
Trump tweeted Friday in response. "Despite so many false statements and lies, total and complete vindication...and WOW, Comey is a leaker!" Trump said. It was almost the longest period since Trump announced his run for president without tweeting. He also thanked Fox News.
Trump's counsel in the Russia inquiry responded on Thursday. Marc Kasowitz accused Comey of lying under oath and leaking "privileged information" — memos about conversations the president had already spoken about. (Note that the New York Times pretty much called Comey a liar too.) On Friday morning, Kasowitz announced he plans to file a complaint with the Senate and Justice department against Comey over the former FBI directory leaking his memos to the Times.
Republicans focused on leaks while Democrats called for further inquiry into whether Trump obstructed justice. Democratic National Committee Chairman Tom Perez called it "obstruction of justice," while Trump surrogate Mike Huckabee said, "he leaked stuff to press ... yes he got fired!"
House Speaker Paul Ryan defended Trump as "new to government," saying it's not the president's fault he makes comments without understanding their impact.
FiveThirtyEight compiled a list of 13 things Comey would not answer, which included questions about possible Trump collusion with Russia, if claims in the unsubstantiated dossier about Trump are still being investigated and whether the Trump campaign contacted Russians. Mic noted that the proceedings had tinges of victim-blaming, the practice of blaming victims of sexual assault for inciting their own attack.
On the #TrumpTrain, the conservative Daily Wire rounded up nine media reactions it claimed were biased. Breitbart, a right-wing conspiracy website with deep ties to Trump, highlighted "seven unhinged celebrity reactions to Comey hearing." Mic detailed how the pro-Trump media reactions were starkly different than other news outlets\
This is Mic's daily read on Donald Trump's America. Welcome to the political newsletter that thanks you for paying close attention these past two days.
Want to receive this as a daily email in your inbox? Subscribe here.
We're seeking your support to expand our coverage of Donald Trump. As little as a $1 a month will give you access to an exclusive group to interact with Mic journalists and grow our reporting. Learn more here.
What we're watching
Today: At last, a Donald Trump tweet responding to James Comey — and in true form.
More: U.K. Prime Minister Theresa May will barely hang on to power after a parliamentary election meant to give her a mandate in Brexit talks backfired.
Trump's agenda today: Talks about infrastructure at the Department of Transportation. Hosts the president of Romania.
The obstruction question
Several constitutional and criminal law experts told Vox the case against the president for obstructing justice has gained steam. It will always be difficult to show Trump's intent during his conversations with Comey — unless there really are tapes — but experts said Comey's testimony opens an obstruction charge up to further investigation.
An impeachment expert told Mic that the bar is lower for impeachment because the House drafts the charges, adding the case for obstruction by Trump is now stronger than it was against former President Bill Clinton. A former prosecutor in the Watergate trial wrote that Comey's testimony is "sufficient evidence for an obstruction of justice case."
British election: Theresa May emerges, barely
Eight seats short of the 326 needed to control Parliament outright, British Prime Minister Theresa May will attempt to form a government despite her Conservative party losing 12 seats. Labour surged, picking up 29 seats, in what was seen as a rebuke to government funding cuts and a move toward Brexit. The results added great uncertainty to Brexit negotiations which, assuming May hangs on, start now.
News and insight you cannot miss:
• Truly a must-read: The 101 canonical tweets
• How Sen. Kamala Harris made her mark during Comey's hearing
• Jon Ossoff, the Democratic House candidate in Georgia's 6th Congressional District, has raised more than $15 million in the last two months. The $23 million in total fundraising, by both sides, makes the race the most expensive in House history.