Marvel will premiere the first 'Black Panther' teaser trailer during the NBA Finals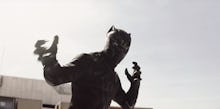 With Guardians of the Galaxy Vol. 2 behind us, Marvel fans are no doubt looking ahead to the next pieces of the Avengers: Infinity War puzzle. In just a month, Spider-Man: Homecoming will hit theaters, which will be followed in November by the highly anticipated Thor: Ragnarok, a film that will pit Thor against the Incredible Hulk.
The final Marvel film before Infinity War will be Black Panther, which is set to take place shortly after the events of Captain America: Civil War, the film that introduced the Black Panther to the Marvel Cinematic Universe. While not much else is known regarding the plot of the film, we can surmise, thanks to actor Chadwick Boseman, that Black Panther will be appearing In the third Avengers film, meaning Black Panther could lead directly into that massive team-up.
We should learn more about the plot shortly, as a trailer for the film is right around the corner. In presenting the film's first poster, Marvel also announced that the initial teaser trailer for Black Panther will drop Friday night during game four of the NBA Finals on ABC. So, those watching King James take on the Golden State Warriors will also be treated to a first look at the King of Wakanda: T'Challa, aka Black Panther.
Game four of the NBA Finals will begin at 9 p.m. Eastern on ABC.
Black Panther is directed by Ryan Coogler and will feature Michael B. Jordan as the villainous Killmonger. Lupita Nyong'o stars as Nakia, while Andy Serkis will reprise his Avengers: Age of Ultron role as Ulysses Klaue. Black Panther will be released in theaters nationwide on Feb. 16.
Mic has ongoing coverage of Marvel. Please follow our main Marvel hub here.