French Parliamentary Elections: Here's what the upcoming vote means for Macron and France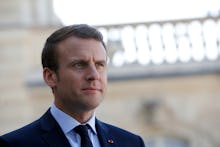 In May, the people of France elected Emmanuel Macron as the country's next president — and soon, they'll be heading to the polls once again.
France will hold parliamentary elections on June 11 and 18 — and the results will prove important for Macron's ability to govern.
French parliamentary elections
The June parliamentary elections will elect France's next National Assembly, which consists of 577 seats, Bloomberg explained. The National Assembly is one of two branches of France's parliament, along with the Senate.
Voters will head to the polls on June 11 for the first round of voting in the parliamentary election, with approximately 14 politicians running for each constituency's parliamentary seat, according to Bloomberg. If no candidate earns a majority during the June 11 election, voters will then return to the polls on June 18 for a runoff election of all candidates who received more than 12.5% of the vote. Whoever wins a plurality of the vote will be the winner of each runoff.
Current polling
The outlook currently looks good for Macron's party, La République en Marche, or Republic on the Move. An Ipsos Sopra/Steria poll released on June 6 and cited by Reuters projected that La REM would earn 29.5% of the first-round vote, before going on to win 385 to 415 parliamentary seats in the second round.
If this polling turns out to be true, the election would give Macron the biggest parliamentary majority for president since 1968, Reuters noted.
Macron's party has already fared well in the first voting round for the constituencies dedicated to overseas expatriates, winning the highest number of votes in 10 out of 11 constituencies, the Guardian reported.
This will be the first parliamentary election for the centrist LREM party, which, the Guardian explained, was first formed less than a year ago in order to enable Macron's election.
A president winning a parliamentary majority is the norm — according to Bloomberg, every newly elected French president since the 1960s has won one — though Macron's projected majority would be particularly strong. The LREM party has benefited by poaching voters and candidates from the country's more established Republican and Socialist Parties, Bloomberg notes.
"The election of Emmanuel Macron started a revolution," Dominique Reynié, a professor at Sciences Po institute, told Bloomberg. "The walls have burst and we don't know where it'll end. It's shattered the rigidities that maintained party discipline, and we are now in a fluid situation."
The far-right National Front Party, whose candidate Marine Le Pen went head-to-head with Macron in the presidential election, is projected to have a much weaker election; polls cited by Bloomberg project the party will only win between five and 22 seats.
Why does Macron need a majority?
Being backed by a LREM-controlled parliament will be important for Macron to move forward with his presidential agenda, which includes a recent declaration to "Make Our Planet Great Again" in response to Trump's rejection of the Paris climate accord.
Though the president does have power when it comes to the military and foreign policy, parliament passes laws and approves spending. It could even replace Macron's current cabinet if it so chose, Bloomberg explains.
This means that the president is heavily reliant on the National Assembly — and would essentially be a figurehead without their support. June's election, then, won't just be an exercise in democracy, but also a key indication of what a Macron presidency can truly achieve.