Woman allegedly raped while pregnant in Sheriff David Clarke's jail awarded $6.7 million by jury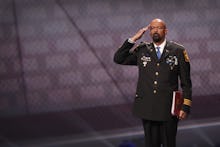 A federal jury in Milwaukee, Wisconsin, awarded $6.7 million to a woman who alleged that a corrections officer raped her several times while she was incarcerated at the Milwaukee County Jail, according to multiple reports.
The woman was 19 years old and pregnant when three of the five alleged assaults occurred in February 2013. Her alleged rapist, Xavier Thicklen, was a county employee at the time, so Milwaukee County will be held responsible for the damages, according to the Associated Press.
"He used his keys, his power, his authority to get in these places and rape me," the woman testified, according to the Milwaukee Journal Sentinel.
The county is expected to appeal the jury's decision, reports say. In a separate incident, the woman — identified in reports only as "Jane Doe" — was shackled to a bed while giving birth to her child in jail. The jury concluded that she had suffered no particular harm from being restrained in this manner, so she was awarded no damages for it.
Thicklen resigned after charges were filed against him in late 2013. In November 2014, he pled no contest to one felony count of misconduct in office as part of a deal that ended with several other sexual assault charges being dismissed, according to Fox 6 in Milwaukee. Thicklen was ordered to serve three days in the Milwaukee House of Correction but got credit for time served.
The jury's $6.7 million award comes as the national profile of Milwaukee County Sheriff David A. Clarke Jr. — who is in charge of the Milwaukee County Jail, where Jane Doe was allegedly raped — seems to be on the rise. In May, Clarke announced that he had accepted a position with the Department of Homeland Security under President Donald Trump, for whom Clarke has been a staunch surrogate and supporter.
DHS would not confirm whether they'd offered Clarke a job, however, so his future may still be in flux. This is not good for him, as news of the nightmarish conditions and administrative abuses at his jail continue to make headlines.
Aside from the Xavier Thicklen rape case, an inquest jury found probable cause in May to file criminal charges against seven more Milwaukee County Jail officials for the death of Terrill Thomas earlier this year, according to the Washington Post. Thomas, 38, died after being deprived of water for seven straight days.
Clarke has been in charge of the Milwaukee County Jail since 2002. If he doesn't end up getting a job with DHS, he could be up for re-election in 2018.