'Tekken 7' Update 1.02: Patch notes for the newest version of the fighting game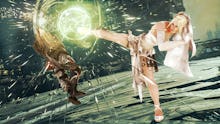 If you haven't loaded up Tekken 7 on PlayStation 4 this week, you've got a small update waiting for you. Thanks to GameSpot, we know exactly what that update did.
Tekken 7 1.02 patch: Small steps to increase online stability
It's no secret that Tekken 7's online play has been spotty since the game launched a week ago. Personally, I've only been able to connect to one random player out of the dozen or so I've tried.
Update 1.02 seeks to address the online play, along with a bevy of small changes. It should make it easier to connect to other players, first of all. Second, it won't show your opponent's profile stats before a match anymore, which may have been hurting the game's connection.
You can also toggle voice chat on or off, with it being set to off by default. Since voice chat is a scourge, this is a good call. The update is out now on PS4 and will come to Xbox One sometime during the week of June 12, according to GameSpot.
More gaming news and updates
Check out the latest from Mic, like this essay about the sinister, subtle evils lurking in rural America that Far Cry 5 shouldn't ignore. Also, be sure to read our review of Tekken 7, an article about D.Va's influence on one Overwatch player's ideas about femininity and an analysis of gaming's racist habit of darkening villains' skin tones.