Why John Palladino's 'Orange is the New Black' character Josh is the one to watch in season 5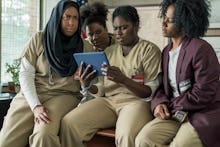 [Editor's note: This post contains spoilers for Orange is the New Black season five.]
John Palladino appears only briefly in the season five premiere of Orange is the New Black, but his character makes an impression. As Josh, a PR rep for the private company that owns Litchfield, he's an aid to the women and a threat to Caputo — and he's got a six-pack (or so we hear).
Fans will know that Josh showed up at the end of season four to do some PR damage control for his company after Poussey's murder. After Caputo went off Josh's script on TV to save his own job, Josh seemed ready to abandon him. But in the season five premiere, Taystee, Alison, Janae and Black Cindy show up to hold Josh hostage and leak the real story about Poussey.
Josh, knowing this could help his company's cause, is quick to help the inmates. We also learn from his computer password —"6pKabs" — that he might be hiding some serious abdominals. Black Cindy, speaking for many viewers, cooed, "Ooh, I wanna see those."
Palladino is set to stick around through episode 10, so Taystee and her crew definitely aren't letting Josh go soon. In a surprising turn of events, he actually ends up being forced to perform with the other guards in the inmates' version of America's Got Talent. His shirtless comedy routine is enough to win over Angie, even though his "talents" leave much to be desired. (Major spoiler alert: He doesn't have a six pack.)
Although this is Palladino's first recurring role on a series, he'll soon appear in a small role on Netflix's upcoming docudrama Wormwood, starring Peter Sarsgaard. A brief peek at his Instagram reveals that he also moonlights as a singer and stage actor. He's also made friends with some of the Litchfield guards in real life:
For those cooing along with Black Cindy and Taystee, it may hurt to learn that Palladino is married with children. He has one adorable daughter and a son on the way.
Mic has ongoing coverage of Orange is the New Black. Check out our main OITNB hub here.