Pro-Trump group barred from marching in NC pride parade claims discrimination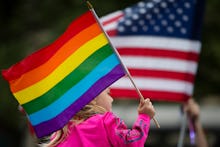 A pro-Trump group that calls itself Deplorable Pride is claiming to be the victims of discrimination after its members say they were denied permission to march in a pride parade in Charlotte, North Carolina, CNN reported on Thursday.
The group reportedly had plans for a pride float that would have included President Donald Trump's campaign slogan, "Make America Great Again," and a dancer dressed as first lady Melania Trump, CNN reported. But Charlotte Pride, the organization behind the Charlotte Pride Parade scheduled for August 26 and 27, reportedly denied Deplorable Pride's application to march.
Now the group is claiming to be the victims of discrimination, and they say they are planning to sue Charlotte Pride.
"They're the oppressors now."
Deplorable Pride's co-founder, Derek Van Cleve, told CNN that Charlotte Pride's decision not to allow their group to march was "pretty sad," and called the choice "politically motivated."
Deplorable Pride member Brian Talbert, an openly gay Trump supporter, told the Washington Post that denying his group a spot in the Charlotte Pride Parade is hypocritical. "I want them to realize that they're doing the exact same thing they say bigoted people are doing to them — they're the oppressors now," he said. "It's disgusting, and every gay person in America should feel ashamed."
Talbert has launched a GoFundMe page to raise money to cover legal fees for a lawsuit against Charlotte Pride, he told the Washington Post. In the page's description, he calls Deplorable Pride "a minority within a minority." As of Friday, the fundraiser had raised more than $5,500 in two days.
In a statement provided to Mic, Charlotte Pride said that it "reserves the right to decline participation at our events to groups or organizations which do not reflect the mission, vision and values of our organization, as is acknowledged in our parade rules and regulations by all groups at the time of their parade application."
It added that is has made "similar decisions to decline participation from other organizations espousing anti-LGBTQ religious or public policy stances" in the past.
Where does the Trump administration actually stand on LGBTQ issues?
Prominent LGBTQ rights groups have made it clear that they see the Trump administration as a threat — and, in his first months in office, Trump has seemed to prove critics right. Hours after Trump's swearing in, his administration removed all mention of LGBTQ issues from the official White House website.
In February, the Trump administration rolled back former President Barack Obama's guidance meant to ensure transgender students in public schools had the right to use bathrooms that match their gender identities.
"This year, Pride is absolutely more about protests, after eight years of being able to celebrate progress in certain areas," Cathy Renna, an LGBTQ PR professional and a consultant with D.C.-based Capital Pride, said in a phone call on Friday.
The Trump administration also removed questions asking about sexual orientation and gender identity from a draft of the 2020 U.S. census, meaning that LGBTQ people in the U.S. will continue to go uncounted.
Trump himself has not yet addressed reports that gay men are being violently persecuted in Chechnya, and, more than a week into June, the White House has not yet released a statement declaring it to be Pride Month.
So what does that mean for pride parades?
As Mother Jones reported on Wednesday, Trump's "assault on LGBT rights" is turning pride parades into protests instead of celebrations this year — and pride organizers are grappling with how to deal with corporate sponsors or participants with ties to Trump.
For Renna, what's missing in the conversation about whether or not Deplorable Pride should be allowed to march in a pride parade is the acknowledgement of intersectionality in the LGBTQ community — and that's what she'd like them to consider.
"Every executive order is affecting our community because we're part of every community," Renna said, like the LGBTQ Muslims who are affected by Trump's attempts to ban citizens from six Muslim-majority nations from entering the U.S.
And, Renna said "there are many undocumented LGBT people who live in fear now, because they're undocumented and what Trump is trying to do around undocumented people is appalling ... If somebody could get that message to the folks who are, for whatever reason, supporting Trump, that's the conversation we should be having."
Deplorable Pride has not yet responded to a request for comment.