Photo of niqab-wearing Muslim woman comforting elderly woman who fell on bus goes viral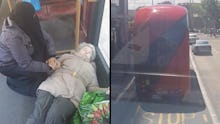 A Facebook post featuring a photo of a Muslim woman helping an elderly woman who fell on a bus has resonated with thousands of social media users.
Hamza Osman Bakri, from Barking and Dagenham, England, posted a photo of a niqab-wearing Muslim woman holding the hand of an older woman that collapsed on a London bus.
"An [84-year-old] lady just got her head stuck between the door and metal pole on EL1 bus from [Liford to Barking], and the Muslim lady [was] holding her hand and supporting her for 20 minutes [until] the ambulance [arrived]," Bakri wrote. "This is the real Islam. The media [won't] show the real Muslims[,] only shows fake [ones]."
The post has been shared over 50,000 times and liked by more than 37,000 Facebook users. One user wrote, "People need to realize that the terrorists are not Muslim."
The photo comes after two terrorist attacks. In early June, three men — Khuram Butt, Rachid Redouane and Youssef Zaghba — ran over pedestrians with their van on the London Bridge and stabbed people, killing seven and injuring dozens. In May, Salman Abedi detonated a suicide bomb at an Ariana Grande in the Manchester Arena killing 22 people.
The heartwarming story also comes at a moment when U.K. parliament members are debating banning Muslim women from wearing the niqab and veil in public places as an effort to uphold Western values. But it looks like this did not discourage a Muslim woman from helping another woman in need.