'Overwatch' Figma: Tracer gets the Figma treatment in new collectible lineup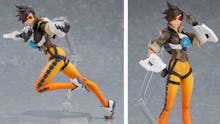 Blizzard is no stranger to collectible statues and figures and neither is Overwatch. Reaper, Tracer and Widowmaker each have "premium" collectibles on the Blizzard store. And, of course, there are the adorable Nendoroids for Mei and Tracer.
But if a "premium" collectible isn't in the budget and those Nendos are too cutesy for you, Blizzard has a brand new collectible lineup.
Overwatch Figma: Tracer joins the Figma lineup and she is gorgeous
Everybody loves Tracer. And because she's such a fan favorite, she gets the Figma treatment first.
The Good Smile page that she's listed on has a ton of room for new Figma collectibles and additional Nendos, so it'll be great to see both lines expand to include our favorites — like D.Va, Symmetra and Lúcio.
More Overwatch news and updates
For more on Overwatch, check out the rest of what Mic has to offer. Here is an essay about how Efi Oladele was a missed opportunity for Overwatch, a deep dive into the issue of sexual harassment in Overwatch voice chat, an unintentionally hilarious infographic showing the most popular Overwatch characters in each state, a criticism of Blizzard's failures in its design of Symmetra and a dive into a cool trend on Tumblr that converts your most-played heroes into a psychedelic illustration.