Snapchat Keeps Crashing: How to fix and troubleshoot the app when it's not working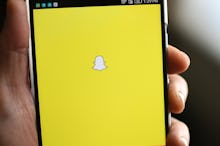 When Snapchat keeps crashing, it's annoying for every avid user by leaving your Snap streaks vulnerable to destruction. If and when your app is having issues, know there are ways to troubleshoot and fix the problem so you can get back on your game. Here are four things to do before panicking.
Snapchat keeps crashing: Reboot the app
The easiest thing to do is to reboot the app. This can refresh the app and solve the problem immediately. If this doesn't work, Snapchat recommends restarting your device. The app crashing could be rooted in your phone acting up.
Snapchat keeps crashing: Play with Wi-Fi
One of the troubleshooting tips Snapchat offers is to alternate between Wi-Fi and mobile data. "Try alternating between Wi-Fi and mobile data to see if the issue is related to your connection. If your experience differs, we recommend you reach out to your service provider for more info," the website reads.
Snapchat keeps crashing: Check for an update
Head over to your device's app store to see if there's a Snapchat update. An app update often comes with remedies to glitches and bugs that can solve some of the issues you're facing with the app and its interface.
Snapchat keeps crashing: Delete the app and download it again
If all else fails, uninstall the app entirely and download it from scratch. Before you do this, Snapchat recommends making sure your Memories backup is complete to ensure you don't lose saved Snaps. Also, if you've opted in for login verification, save your recovery code prior to reinstalling your app.
Read more Snapchat tips and tricks
Become a Snapchat power user with our expert guides. You can learn how to use stickers and how to make your own on-demand geofilters. We'll teach you how to use two filters at once, play music on Snapchat using your headphones, save your messages and replay a Snap. You can even find out who deleted you and how to delete the app itself when you've had enough. Then go inside the world of Snap streaks, where teen friendships live or die.