Prosecutors: Alleged leaker Reality Winner wanted to "burn the White House down"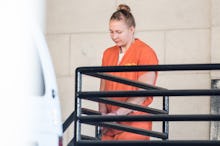 Reality Winner, the federal contractor arrested Saturday for allegedly sending a classified NSA report to an online news outlet, was denied bail Thursday after prosecutors argued she was a danger to the public and might leak more classified information.
In a court hearing, prosecutors alleged Winner had written she wanted "to burn the White House Down" and "find somewhere in Kurdistan to live," the Washington Post reported. Prosecutors also said they found the names of three Islamist extremists in her notebooks, Reuters reported, although they added they were "not in any way suggesting the defendant has become a jihadist or that she is a Taliban sympathizer."
Prosecutors also argued Winner posed a flight risk if she were released.
Winner, who for six years served as a linguist in the Air Force and speaks three languages, pleaded not guilty to the charges during her first appearance in court since her arrest. She faces up to 10 years in prison if she is convicted.
On Monday, the Intercept published a top-secret NSA report showing the extent of Russian hacking into the 2016 presidential election spanned further than had previously been understood. The report found hackers had targeted a U.S. voting software company and had tried to hack more than 100 local election officials.
Hours after the bombshell report was published, the Department of Justice announced officials had taken Winner into custody from her home in Augusta, Georgia. It was later reported Winner was arrested for sending the documents to the Intercept.
Winner admitted to sending the report, an FBI agent wrote in an affidavit. Investigators are also looking into whether Winner had additional classified material.
Winner's attorney, Titus Nichols, accused the government of "scraping and clawing to build a mountain out of a molehill," according to the Associated Press.
Winner's parents also criticized the case.
"I don't know that she did this, none of this matches," Winner's mother, Billie Winner-Davis, told the Huffington Post on Thursday. "How would she know to access anything? How would she know what to look for? All of the things we read in that affidavit, it just seems to perfectly tied together, a neat little bow. They got the perfect case, but it doesn't match. None of this matches."