Travel for Cheap: A beginner's guide to maximizing travel points and miles for your next vacation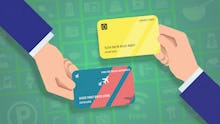 In a lyrical French accent, a front desk agent in a dark tailored suit welcomed me to the Park Hyatt Paris-Vendôme and thanked me for my loyalty. I'd never stayed at a Hyatt hotel before, let alone this particular five-star Hyatt hotel. Located in Paris' tony second arrondissement, the current rate for a weekend night is around $1,000. My hotel budget tends to stay in the $250 or less range.
The gentleman outlined my benefits: complimentary Wi-Fi, complimentary breakfast in the sun-splashed courtyard, discounted drinks in the ritzy bar, "and as a platinum member, we've been able to upgrade your room," which turned out to have a cavernous limestone bathroom and cinematic views of Rue Volney over twin wrought-iron Juliet balconies. Cost: $0. All I had to do was open a Chase Hyatt card, which comes with two free nights at any hotel within the Hyatt portfolio.
It's not a scam. It's not too good to be true. Point-subsidized travel is very real, and particularly valuable for those with Ritz-Carlton tastes on a Red Roof budget. People who are relatively organized and fiscally responsible can do it. With a minimal time investment and willingness to alter your spending habits a bit — outlined in the beginner's guide below with help from experts in the field — you'll be wheels-up on a five-star vacation faster than Four Seasons room service.
1. Pre-check your life.
We're not talking about TSA PreCheck, that wonderful airport security time-saver, but a pre-check of your financial status. Before you get started with earning points and miles for fabulous vacations that will make all your social media followers jealous, some critical self-reflection is in order.
"There's a lot of responsibility that comes with opening a credit card account," Zach Honig, editor-in-chief at travel site The Points Guy, said in a phone interview. "If you're not good at managing your finances, if you find yourself overdrafting or not managing money well, a credit card might not make sense."
2. Ditch debit cards and start small.
Let's assume that generally you're a financially responsible adult: Then it's time to assess your credit history. If you've been using a debit card since college, you might not have any credit, leading to denials from the banks that issue credit cards.
"You have to have a strategy to build up your credit," said Honig, who recently helped a friend by adding her as an authorized user to his American Express card. His friend never used the card, but was able to build credit history in a few months based on Honig paying his bills on time.
For a card you're actually going to use, Honig said to start with a card that has no annual fee and offers a minimum starting credit line of $500 to $1000, like the Capital One Quicksilver or Chase Freedom. You won't earn a tremendous amount of points, but you'll be slowly building your credit score each month.
3. Join, join, join.
Even if your cards don't earn you a ton of points to start, set up your free loyalty accounts — these have no bearing on your credit score and allow you to start accruing miles as you fly. It helps to have them registered ahead of time, according to Lee Abbamonte, a points-and-miles player who claims he's the youngest American to visit every country in the world.
"Join every points and miles program," he said in an email. But unless you're expecting to travel (like Abbamonte) to Lesotho, Uzbekistan and other places that can be hard to fly to, it's safe to narrow your scope to the airlines that have major presences across the country, like:
• American
And these, if any operate out of your home airport:
• Alaska
Now that you're signed up for all the airline programs, here are the key hotel programs with the best associated credit cards. Even if you haven't stayed at properties run by these companies in the past, eventually you'll run out of airline cards to apply for and should want to diversify your wallet with hotel-branded cards. Start with these loyalty programs:
• Hilton (Hilton, Conrad, Waldorf Astoria and more)
It costs nothing to do this but a few minutes of your time. Keeping track of all your member numbers can be annoying, so save them in your phone as contacts or download the loyalty program companion apps; some have digital member cards you can file away in Apple Wallet for easy reference. This will be a giant time-saver first when credit card applications ask for your member number and later when you're bouncing around from site to site checking rates and redemptions.
4. Upgrade for bonuses.
There are two ways to earn points with credit cards: spending and bonuses. Unless you're spending tens of thousands of dollars every month, your points will likely never accumulate as fast as they would with bonuses, the point windfalls credit card companies use to incentivize new customers. After some time building up your credit on entry-level cards, issuers will come to you with offers to upgrade your card. Let them. In climbing the tiers of credit-card-dom — from, say, Chase Freedom to Chase Sapphire Preferred (which waives its annual fee in the first year) — you'll unlock benefits, access higher credit limits and earn more points. Many of these cards come with an annual fee of around $100, but that's a negligible number compared to the value you can get from a sign-up bonus, which in some cases can get up to something like 80,000 points.
The Sapphire Preferred card, for example, is offering a bonus of 50,000 points, which is equivalent to $625 worth of travel when redeeming through Chase Ultimate Rewards. Based on a Google Flights search, that could get you a free round-trip, nonstop ticket from Boston to Dublin on Delta, Seattle to Honolulu on Hawaiian or Dallas to Montreal on Air Canada this August. Meanwhile, the longstanding opening offer from Chase's Hyatt Card, another must-have piece of plastic, isn't points but two free nights (subject to availability, which is reliably good) at any of their properties — that's how I got my free nights in Paris.
5. Understand the minimum spends.
Sounds awesome, right? Here's the caveat: Whether points or free nights, most of these bonuses have spend thresholds, meaning you need to charge a certain amount on the card. Chase wants you to spend $4,000 in the first three months for the Preferred bonus, $2,000 in three months for Hyatt. If you don't hit the spend, you don't get the extra points (though there's no penalty if you don't spend the minimum amount, either). For some people, dropping four grand in three months is a breeze. For others, it can require a dramatic change in spending habits.
As a general rule, stick to opening one card at a time, so you're only trying to hit one spend threshold at a time. Then, start using credit where you would normally use cash or debit: groceries, coffee runs, gym memberships, parking tickets, electricity bills. I charged my income taxes this year, which let me hit spends on a Starwood Preferred Guest American Express and a Sapphire. This is another good place to pause and reiterate: If managing money is not your strong suit, proceed with caution.
6. Earn and burn.
This is the preferred strategy of the Points Guy founder, Brian Kelly. "Earn and burn … means redeeming [points and miles] for travel frequently instead of stockpiling them, mainly because programs tend to devalue from time to time," Kelly wrote in a Q&A for Citi.
"Points are an unregulated currency, so you can't count on them having the same redemption power forever," he wrote. Over the last four years, all three legacy airlines have devalued their mileage programs. For example, on American, the last of the major domestic airlines to devalue its miles, earned mileage is now calculated based on how much you spend on airfare and what your current status is, rather than actual miles flown. This prioritizes elite passengers paying out of pocket for business and first-class fares, not savvy mileage hounds gaming the system.
Follow Kelly's advice and redeem some of your stash. Go on a quick weekend trip: sunbathing in Miami, wine tasting in northern California, hiking in Colorado. Bonuses from two or three cards should cover most of it, and there's no better way to crystallize the value of playing the points game than actually experiencing the payoff.
7. Don't get discouraged.
If you can't book the flights you want with points or miles, don't get discouraged. This is especially important with finding flights. It pays to familiarize yourself with who flies where: Wikipedia is a good starting point; each airport entry has an "Airlines and Destinations" section that's pretty accurate — and with nearby airports. South Florida is a good example: I regularly fly into and out of Miami, Fort Lauderdale and Palm Beach depending on award availability, irrespective of the city I'm visiting. The airports are a short drive apart and awards can vary wildly depending on time of year, time of flight and how far in advance you're booking. Be flexible.
8. Choose an alliance.
When you've earned bonuses from each of the main airlines, it's time to ask an airline to go steady. "Choose one airline alliance to focus on growing status and miles," frequent flier Abbamonte said. Then get accompanying credit cards to maximize bonuses for those mileage programs.
Take American Airlines, part of the One World alliance. There are only so many American-affiliated cards on the market, and you'll quickly hit a wall applying for them to gorge on bonuses. But you can open credit cards with sister airlines British Airways and Cathay Pacific, whose respective loyalty programs let you redeem flights on American.
Abbamonte prefers to open cards affiliated with Star Alliance, whose 28 member airlines include United, Lufthansa and Air Canada, "but it all depends on where you live and where your goal trips are." Understand the legacy carrier that dominates your nearest, largest airport and go from there.
9. Diversify your holdings.
As in life, diversity is great in a points portfolio. "I have points in many different programs and hotel chains, which allows me to jump on any opportunity or offer," said Honig, who recently snatched a Starwood mistake discount redemption that set him up in an overwater villa at the luxurious St. Regis Maldives for 46,800 Starpoints per night. That's a little more than half off the normal 90,000 per-night redemption rate — for a room that regular visitors drop $2,190 a night on.
Awards can often be booked through different programs, none of which are created equal. Some flights cost less booking through the airline's loyalty program, while others are better booked through a third-party program like American Express Membership Rewards, Citi ThankYou or Chase Ultimate Rewards. Having a diverse points portfolio can help you find the best possible redemption value.
For example: I'm planning a trip to Hawaii for January, and I know I want to fly first class from New York on Hawaiian Airlines' direct route to Honolulu. So I'll get the current price of the flight from the invaluable Google Flights ($1,202 one way), then turn to my various reward programs to see which offers me the most savings.
In this case, that's my American Express Business Platinum, which lets me redeem business and first-class seats on any airline for a 50% points discount. (They recently devalued the discount to 35% for new cardholders, but it's still an amazing benefit.) I'll "pay" 60,007 points for the flight, whereas booking with Hawaiian Airlines loyalty program, I would have needed 80,000 HawaiianMiles, making AmEx Membership Rewards the better value. Having points in different places allows for that kind of flexibility.
10. Use partners to get the bonus twice.
If you're in a committed relationship, making your spouse or partner part of your points strategy lets you double-dip on bonuses and makes your trips longer and better. Consider last year's 75,000 bonus from the Hilton HHonors Visa Signature Card (this card has been discontinued, but the AmEx Hilton Honors Surpass Card offers the same perks). Hilton inflates the value of its points, so one free night at most of its top-tier hotels costs 80,000 points. But when I applied for separate cards for my wife and me, we suddenly had 150,000 points, and with only 10,000 more, a so-so single award becomes a two-night getaway to the Conrad London St. James or the Waldorf Astoria Park City.
I employed the same move to double up on bonuses from British Airways Chase Visa Signature card, which we've used for first-class flights from London to Istanbul on British Airways, as well as economy flights from Miami to St. Lucia, in the Caribbean, on American, an alliance partner — and we still have lots of miles left in our British Airways account. Doubling up on the Hyatt card got us an extra two free nights at the pricey Hyatt Olive 8 in Seattle, and because we each have the card, we each get a free night added to our accounts every year we keep the card open. (Marriott Rewards Premier card has the same benefit.) That got us a free overnight at the Hyatt House Charleston in October and another at the Hyatt Centric Fisherman's Wharf in San Francisco in December.
11. Work backward.
What's your dream trip? Think about it. Write it down. Then start building the points inventory to make it happen. "Look at the hotels that are available and the flights that can get you there," Honig said. Then create a plan, opening cards and amassing bonuses in the right airline and hotel programs. Having a clear trip in mind means you can focus your energy on programs with immediate value, as opposed to earning indiscriminately. Again, be flexible, Honig added: "If you want to stay at the Ritz-Carlton Kapalua over Christmas, you might not be able to do that." Always check availability first.