Kirsten Gillibrand on Donald Trump: "Has he kept his promises? F*ck no."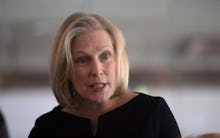 Sen. Kirsten Gillibrand (D-N.Y.) dropped the f-bomb while speaking about Donald Trump at a New York City event Friday, asking her audience, "Has he kept his promises? No. Fuck, no."
The New York Democrat went off on the Republican president while addressing listeners at the Personal Democracy Forum, saying Trump hadn't lived up to the commitments he made on the campaign trail.
"He promised he was going to drain the swamp and get rid of corruption in Washington and change the culture there, so that no one can make a profit off of their government work," Gillibrand said, per her prepared remarks.
Gillibrand, the state's junior senator and member of the Trump resistance, was selected in 2009 by then-New York Gov. David Paterson to replace Hillary Clinton in the upper chamber when Clinton became secretary of state.
On Friday, she didn't save her profane challenges for the Trump White House alone. She also faced off with her own party.
The average man and woman, Gillibrand said, feels forsaken by Washington, and that cannot stand.
"This isn't about politics – it's about people. This is about their lives, their families and their lost dreams. And even though we as Democrats might be on the right side of all the issues … many hardworking families just haven't felt us fighting for them in a very long time," she said, per her script.
"Fundamentally, if we aren't helping people, we should go the fuck home."
The second f-bomb was written into Gillibrand's prepared remarks, per a copy of the speech provided to Mic by her office.
The Republican Party uploaded and send out a cut of the speech Friday afternoon, pointedly including Gillibrand's post-cursing apology to the 90-year-old mother of Personal Democracy Forum founder Andrew Rasiej:
The senator's salty language got some props from the masses on social media.
But John Podhoretz, editor of the conservative magazine Commentary, wasn't impressed.
Gillibrand, an attorney, has been a noted voice in the Senate on issues such as combating sexual assault in the military. While she's been floated as a potential 2020 presidential contender, Gillibrand ruled out a White House run last month, saying she was focused solely on her 2018 re-election bid.
June 9, 2017, 3:57 p.m.: This story has been updated.