Los Angeles Pride 2017: Your complete guide to events, festivals, the parade and more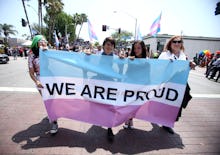 In June 1970, the Christopher Street West Association created the first permitted Pride parade in the world, following the Stonewall Rebellion led by LGBTQ protesters in New York City in 1969. On Monday, Los Angeles kicked off their Pride Week with a series of special events.
The tradition of providing safe space for LGBTQ attendees continues this weekend, as revelers look forward to Pride Week's biggest events: the 47th annual festival and a march for equal rights, which is replacing this year's parade. Activist Alexei Romanoff is this year's LA Pride grand marshall. For those looking to attend this weekend's celebration in the City of Angels, here is a guide to some of the events happening.
The LA Pride Festival
The LA Pride festival takes place Saturday and Sunday at West Hollywood Park, located at 647 N San Vicente Blvd, West Hollywood, California, 90069.
Tickets
All ticket options can be found here.
Advanced individual day tickets for the festival are $25 plus fees. Tickets for the entire weekend cost $35 plus fees. There is also an option to purchase an add-on backstage pass for $225. This VIP option includes backstage access, two vodka cocktail beverages and free food.
This pass is only valid for one day and does not include admission, which must be purchased in order to celebrate. Children 12 and under are free and must be accompanied with a guardian.
Saturday performances
On Saturday, doors open at noon and performances go on until 1 a.m. Sunday.
The line-up Saturday includes an array of pop, hip-hop, and Latin artists, including Chromeo, rapper Young M.A. and Kat Dahlia. View all the artists scheduled to perform here.
Sunday performances
Doors on Sunday open at 11 a.m and performances wrap up at 11 p.m.
The line-up Sunday includes Brandy, Erika Jayne and Spencer Ludwig. View all the artists scheduled to perform here.
The Resist March
The Resist March will replace the LA Pride Parade Sunday. Participants will meet at Hollywood Boulevard & Highland Avenue, where the first LA Pride Parade was held in 1970. The protest for equal rights begins at 8 a.m.
"We simply felt that in 2017 we need to return to our roots and protest so that those who would roll back our hard won human rights are put on notice that we will not stand idly by," the march organizers explained on their site.
The peaceful demonstration will be held in solidarity with the National Equality March for Unity and Pride taking place in Washington, D.C. the same day.
More LA Pride events
Several events are being held Friday to kick off LA Pride weekend.
The Trans Party
The Trans Party and awards ceremony will be held at West Hollywood Park at 7 p.m.
The free event will be honoring gender non-conforming songwriter and activist Justin Tranter, GLAAD senior strategist for transgender media Alex Schmider, actress and activist Alexandra Grey and community activist Maria Roman. More information about the event can be found here.
Pride is Universal
On Friday from 9 p.m. to 1:00 a.m., Universal Studios is hosting a special Pride night that will feature dance venues, entertainment, passes for rides and attractions, as well as character meet and greets. Find out more information here.
LGBT Night at Dodger's Stadium
The Los Angeles Dodgers is hosting the LA Pride weekend kickoff at 5:30 p.m. at Dodger's Stadium. Special guests include MLB Vice President Billy Bean, Resist March founder Brian Pendleton and Scandal's Guillermo Diaz. Find more information here.
The Dyke March
The Dyke March will bring together lesbian and queer women at the Sal Guarriello Veterans' Memorial. The event begins at 6 p.m. with protest sign-making. A rally will follow at 7 p.m. and the march begins at 8 p.m.
Some speakers scheduled for the rally portion of the event include: Sue Dunlap, president and CEO of Planned Parenthood Los Angeles, Black Lives Matter co-founder Patrice Cullors and Black Lives Matter Canada co-founder Janaya Khan. Find more information here.
Mic has ongoing arts coverage. Please follow our arts hub here.