'Overwatch' Anniversary: Watch the voice cast attempt their character's dance emotes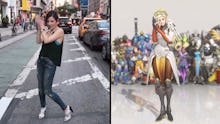 If you're not already aware of how painfully cute the Overwatch voice cast is, you are sorely missing out, my friend. In the past, Anjali Bhimani (Symmetra) and Carolina Ravassa (Sombra) have vlogged their friendly hangouts, but most of the voice cast had yet to make an appearance on either of their channels — until now.
Overwatch Anniversary: Voice cast films themselves adorably attempting their dance emotes
In a new video uploaded to Bhimani's YouTube channel, she assembled footage of just about every single Overwatch voice actor performing the dance emotes their characters can unlock as a part of the ongoing Overwatch Anniversary event.
For example, here's Cara Theobold (Tracer) doing her Charleston emote:
Here's Ravassa absolutely nailing Sombra's dance emote:
And here's Feodor Chin (Zenyatta), uh, creatively interpreting his character's dance:
Tragically, a few, like Christopher L. Parson (Junkrat), Darin De Paul (Reinhardt) and Dolya Gavanski (Zarya) don't make an appearance, but the goofy, game-for-anything enthusiasm of everyone else more than makes up for their absence.
The full video is embedded below.
More Overwatch news and updates
For more on Overwatch, check out the rest of what Mic has to offer. Here is an essay about how Efi Oladele was a missed opportunity for Overwatch, a deep dive into the issue of sexual harassment in Overwatch voice chat, an unintentionally hilarious infographic showing the most popular Overwatch characters in each state, a criticism of Blizzard's failures in its design of Symmetra and a dive into a cool trend on Tumblr that converts your most-played heroes into a psychedelic illustration.