Amanda Bynes resurfaces with first interview in 4 years, teases upcoming fashion line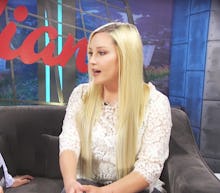 In her first on-camera appearance in four years, Amanda Bynes did not disappoint. Between mentioning her "interesting and fun" time spent feeding the homeless and acknowledging (and doubling down on) her infamous "I want Drake to murder my vagina" tweet, Bynes dropped hints at an upcoming fashion line.
"I've been going to school lately," Bynes, who has been matriculating at the Fashion Institute of Design & Merchandising since 2014, responded when asked what she's been up to. "I've learned how to sew; I make patterns. And I want to start a clothing line in the future, so FIDM has been helping me with that," she said.
It's not the first time we've heard about the yet-unnamed collection by the former child star, known mostly for her work on Nickelodeon's All That and The Amanda Show as well as her film work in Easy A and She's the Man. "She is focusing on her very own fashion line, which is shaping up to be amazing," Bynes' attorney Tamar Arminak told ABC News in April 2016.
In 2013, Bynes also mentioned the proposed collection. "My line will be a mixture of sick styles, and it's going to be for everybody," she told In Touch. She added, "I love Mary-Kate and Ashley Olsen's clothing line, Elizabeth and James, and I love how Justin Bieber dresses."
But it's far from Bynes' first foray in fashion. Her now-defunct Dear by Amanda Bynes clothing line launched at Steve & Barry's in 2007, so really this new collection would be something of a return to form.
During the 7-minute interview, Bynes also revealed the inspiration behind her 2013 style transformation: Blac Chyna. "I stole her look," Bynes admitted. "I was getting the microdermals in my cheeks because she had them. I thought they looked super hot on her."
For the full skinny on what Bynes has cooking in 2017, including a maybe return to the small screen, watch the full interview below: