'This Is Us' Season 2 Premiere Date: Here's why the show moved back to Tuesdays this fall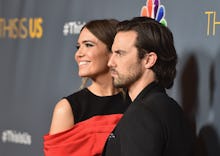 AUSTIN, Texas — In a packed ballroom in the ATX Television Festival home base, the Stephen F. Austin Intercontinental Hotel, This Is Us fans gathered away from the hot Texas sun to see their favorite show's creators. If you think This Is Us isn't the sort of show to inspire serious fandom, you'd be mistaken.
During the panel, star Milo Ventimiglia, NBC Entertainment president Jennifer Salke and executive producer Ken Olin answered Entertainment Weekly editor Henry Goldblatt's questions about the surprise phenomenon. During the panel, the team explained why the show had to move back to Tuesdays this fall after initially announcing a change to Thursdays. Simply enough: Blame football.
Creator Dan Fogelman's plan for season two necessitated airing a string of episodes in the fall — which would've been impossible with Thursday Night Football interrupting their airing schedule on NBC. Saike explained that the show would have "hit a wall," and the delay to get back to the action would have been too great. So the series had to give up its Thursday berth.
The good news for This Is Us fans: The new season will air 10 episodes in the fall. An exact premiere date has yet to be announced.
Mic has ongoing This Is Us coverage. Follow the main This Is Us hub here.