'Axiom Verge' Switch: Physical "Multiverse Edition" available for Nintendo pre-order soon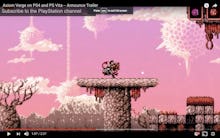 The Nintendo Switch is setting itself up a nice little fiefdom in the indie games world — from games like Shovel Knight and Flinthook to rumored future releases like Dead Cells — although it's long since been confirmed that Metroidvania clone Axiom Verge will be coming to the Switch as well.
If you're excited for more information about the upcoming physical release for the Badland Games property, get excited because we just got a lot more information about it.
Axiom Verge Nintendo Switch: Multiverse Edition of the game will come with soundtrack and documentary
Nintendo Life reported Thursday that Axiom Verge's physical release will be coming not only to the Nintendo Switch, but also to the PlayStation 4, PlayStation Vita and Wii U as well, called the Multiverse Edition. This physical edition of the game will come with a documentary detailing the game's development, an art booklet, a double-sided poster and a CD. The CD will only be bundled with Switch copies of the game — for the PS4, Vita and Wii U versions it will be part of a pre-order incentive.
Perhaps because of the included CD, or maybe because of the Switch's need for solid state cartridges, the Switch version will also be much pricier than any other console's version. According to Nintendo Life, the Switch version of Axiom Verge: Multiverse Edition will cost €39.99 in Europe, as opposed to the $29.99/€29.99 the PS4, Vita and Wii U versions will cost. Given the price in euro is the same as the United States price for those versions, it stands to reason that the Switch version will cost $39.99 in America as well.
Whether or not that all sounds a little steep in terms of pricing is up for debate, but you're also getting a lot of bang for your buck if you're a fan of the game. Axiom Verge's physical version will be released sometime this August.
More gaming news and updates
Check out the latest from Mic, like this essay about the sinister, subtle evils lurking in rural America that Far Cry 5 shouldn't ignore. Also, be sure to read our review of Tekken 7, an article about D.Va's influence on one Overwatch player's ideas about femininity and an analysis of gaming's racist habit of darkening villains' skin tones.