Oceanhorn Switch Release Date: Nintendo port based on PC version hits eShop next month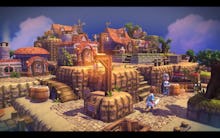 Although the Nintendo Switch has no shortage of first-party titles coming out — Fire Emblem Warriors and Arms, for instance — Nintendo's new system has really established itself as a haven for indie titles like Dead Cells and Flinthook, too.
In keeping with this, Wind Waker-inspired exploration game Oceanhorn — after its initial development as a mobile game — is getting new life on the Nintendo Switch's eShop.
Nintendo Switch Oceanhorn: Port will be based on the game's PC version, will release later this month
Nintendo Life reported Oceanhorn will be coming to the Nintendo Switch's eShop on June 22. Although originally a mobile game, Oceanhorn got a PC re-release back in 2015, according to its Steam page. The Switch port will be based on this PC port and will run at 60 fps at 1080p in TV mode, with the same fps at a 720 resolution in portable mode, according to Nintendo Life. No price has been announced, but the Steam version of the game sells for $14.99, so we'd expect a comparable price from the Switch release.
The game itself promises "15+ hours of story-driven gameplay" as well as your standard Zelda-like fare of "master[ing] magic and swordfight[ing]" and "find[ing] ancient items to help you on your quest." If you're on the fence about whether you're ready to saddle up for a compact version of The Legend of Zelda: The Wind Waker, you can check out the trailer below:
Oceanhorn comes out June 22 on the Nintendo Switch eShop.
More gaming news and updates
Check out the latest from Mic, like this essay about the sinister, subtle evils lurking in rural America that Far Cry 5 shouldn't ignore. Also, be sure to read our review of Tekken 7, an article about D.Va's influence on one Overwatch player's ideas about femininity and an analysis of gaming's racist habit of darkening villains' skin tones.