'Dragon Ball Fighters' Announced: New 'DBZ' fighting game from Arc System Works of 'Guilty Gear'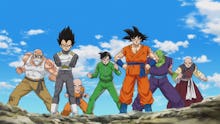 E3 2017 is looming, and there will be plenty of surprising and exciting game reveals for all of us. We could hear about a new Super Smash Bros. or find out the remake of Final Fantasy VII is out today or even find out Project Scorpio cures diseases. All of that would be amazing, but none of it would be more personally exciting to me than Arc System Works' Dragon Ball Fighters.
Arc System Works developing Dragon Ball Fighters
This comes courtesy of Gematsu. Bandai Namco announced Friday that Arc System Works, developer of the deliciously bonkers Guilty Gear and BlazBlue anime fighting game franchises, is working on a Dragon Ball Z fighting game called Dragon Ball Fighters. It will feature three-on-three battles (seemingly similar to Marvel vs. Capcom) on a 2D plane, but with the crazy visual tricks from the most recent Guilty Gear games.
No, seriously, it has to be seen to be believed. Though the characters in Guilty Gear Xrd look like high-res 2D sprites, they're actually cleverly disguised 3D models. It looks amazing every single time the camera swings around them during a special move.
Sadly, there's no gameplay footage of Dragon Ball Fighters yet, but if it looks like that? Oh man. To be clear, Guilty Gear is also known for being pretty complex, but maybe Dragon Ball Fighters will tone that down a bit for more casual players.
Though we have no video of the game, Bandai Namco's press release includes one small screenshot. It looks like what you would want out of a DBZ game developed by Arc System Works.
Sold. The official reveal of Dragon Ball Fighters is slated to happen on June 12, during E3. We will keep you posted if actual gameplay footage is released.
More gaming news and updates
Check out the latest from Mic, like this essay about the sinister, subtle evils lurking in rural America that Far Cry 5 shouldn't ignore. Also, be sure to read our review of Tekken 7, an article about D.Va's influence on one Overwatch player's ideas about femininity and an analysis of gaming's racist habit of darkening villains' skin tones.