Yemen is in the middle of a massive cholera outbreak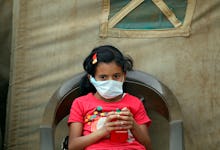 Yemen is currently experiencing a widespread cholera outbreak, with the total number of cases now exceeding 100,000, according to a joint statement released Thursday by the World Health Organization and UNICEF.
The total number of suspected cholera cases reached 101,820 as of Wednesday, according to the statement, and 791 people have died. Children under the age of 15 account for 46% of the cases.
The cholera outbreak is compounded both by ongoing famine and violent internal conflict between those loyal to Yemen President Abdrabbuh Mansour Hadi's government and rebel groups.
"The cholera outbreak is making a bad situation for children drastically worse," Dr. Meritxell Relano, UNICEF Yemen representative, said in the statement.
"Many of the children who have died from the disease were also acutely malnourished," Relano said, adding that "today, life for children in Yemen is a desperate struggle for survival, with cholera, malnutrition and the relentless violence constantly sounding a death knell at their doorsteps."
What is cholera?
Cholera is transmitted though water or food that has been contaminated by feces. Its symptoms include sudden acute diarrhea, which the WHO said can become fatal within hours in severe cases. Seventy-five percent of cholera-infected people show no symptoms, but can continue to spread the disease though their feces for seven to 14 days.
Cholera is commonly treated with rehydration, but lack of access to potable water and sanitation can make outbreaks much riskier. That's the case in Yemen, where years of military conflict have severely impacted the country's infrastructure and cut off access to clean water and medical supplies. Health and sanitation workers haven't been paid in over eight months, according to the statement.
In April, United Nations Secretary General António Guterres urged world leaders to take action to "facilitate the rapid and unimpeded passage of humanitarian aid by air, sea and land" to Yemen, warning that without international cooperation, the devastation in Yemen would only worsen.
"We are witnessing the starving and the crippling of an entire generation," Guterres said. "We must act now to save lives."