Decoding Katy Perry's lyrics: Fans speculate 'Witness' tracks are about John Mayer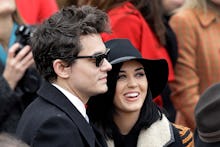 Katy Perry is back with her fifth studio album, Witness, and some of her followers are speculating that the pop singer is sending a subliminal message to her ex, singer John Mayer. The song "Save As Draft" has fans tweeting and asking Mayer directly if he was connected to the song. The musical pair dated on and off from 2012 to 2014.
On the electro-pop ballad, Perry is reminiscing on a former love and is contemplating rekindling their connection. In the midst of the back and forth struggle in her mind, Perry decides not to reach out and instead saves the message as a draft. Whether that message is a tweet or text is up for interpretation. On the track she sings the following lyrics, via Genius: " I write is/ Erase it/ Repeat it/ But what good will it do to re-open the wound?/ So I take a deep breath and I save as draft."
The individual she is singing about has also subtweeted her before as revealed on these lines: "You don't have to subtweet me/ My number's always been the same/ But all's been said and done, will we ever really close this case?"
One reason some may think Mayer, an active Twitter user, is the subject of the track is because he's used the phrase "save as draft" in tweets he wrote in May and in September 2014.
Mayer seems to obsess over his saved drafts on Twitter, to the point he decided to share some of the drafts with his fans in May. "I feel like posting some of my drafts," he wrote. "Remember — these are the tweets that didn't make it. Do not judge me."
Could this be a detail about Mayer that Perry picked up on while with him?
Other fans believed that Perry's "Miss You More" is also about John Mayer.
On the opening verse of "Miss You More" Perry sings: "Saw your picture on accident/ Your face has changed/ The lines are sinking in/ I pressed play, I should haven't."
Because Mayer is a high-profile celebrity, it is possible Perry came across his face by accident while watching TV, on the internet or even the magazine aisle of a supermarket. The singer also references pressing play on something. Genius contributor Colby Handy writes that she could be referring to Mayer's "Still Feel Like Your Man," which he admitted is about Perry in February.
"Who else would I be thinking about?" Mayer told the New York Times in March. "And by the way, it's a testament to the fact that I have not dated a lot of people in the last five, six years." he continued.
It's no certainty whether "Miss You More" or "Save As Draft" is about Mayer, unless Perry confirms it is so. But it is possible that Perry is putting lyrics about Mayer in her music. This is Perry's first album since 2013's Prism and so it would be the first time she's has had an opportunity to sing about any experiences with Mayer post-breakup.
Mic has ongoing Katy Perry coverage. Please follow our main Katy Perry hub here.