6 of the biggest reveals from the 'Pretty Little Liars' ATX TV Festival panel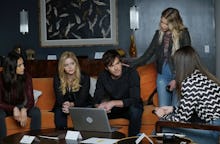 Only three episodes remain in Pretty Little Liars and fans are desperate for as much scoop as they can get. Fortunately, those at the 2017 ATX Television Festival in Austin, Texas, were able to learn a few key details about the final episodes and the series as a whole.
Writer, creator and executive producer I. Marlene King was on hand with co-executive producer Lisa Cochran-Neilan, costume designer Cameron Dale and Freeform's vice president of current programming Jennifer Gerstenblatt to dish out as much scoop as possible — without giving away major spoilers.
Check out the six things we learned from the Pretty Little Liars panel, moderated by Leanne Aguilera from Entertainment Tonight.
1. Keep an eye out for Spencer's dress in the finale
The characters on Pretty Little Liars have always had killer fashion and Dale promises that fans will want to keep an eye out for a "cool detail" on Spencer's dress in the finale.
2. No spinoff plans — yet
When Pretty Little Liars is over, it's over. Although fans in attendance at the panel seem to be rooting for a Mona spinoff series, it was confirmed that there are no plans for now. However, King and Cochran-Neilan are "open to a lot of things."
3. Two weddings
Not one, but two weddings will take place within the next three episodes. King and Cochran-Neilan were close-lipped on which of the Liars would be tying the knot, but they did reveal that there will be bridesmaid dresses involved.
4. Emily goes glam
Emily has always been a tomboy on the series, but actress Shay Mitchell is anything but. King, Cochran-Neilan and Dale joked that Shay is the "girliest girl ever on the planet," so eventually she began to push back on her wardrobe. According to Dale, fans will see a "slight shift" in Emily's wardrobe towards Mitchell's own personal style in the final episodes.
5. One finale scene will tug at your heartstrings
The two-hour series finale is bound to be emotional, but viewers should keep their eyes peeled for a specific scene at the top of the second hour. Mitchell and co-stars Lucy Hale, Sasha Pieterse, Troian Bellisario and Ashley Benson reportedly asked that they be together for the last scene on the last day of shooting for the finale. The scene in question was filmed in one or two takes and the cast was "losing it" over the dialogue that was written for it.
6. The identity of A.D.
Who is A.D.? They didn't reveal that secret at the panel, but it was confirmed that some of the theories floating around out there are correct. King and Cochran-Neilan said that they want fans to be surprised, but that they tried to drop Easter eggs so that the identity of A.D. wouldn't be random.
Pretty Little Liars airs on Freeform Tuesdays at 8 p.m. Eastern.
Mic has ongoing Pretty Little Liars coverage. Check out our main Pretty Little Liars hub here.