Bill Cosby sexual assault trial: 3 key takeaways from day 5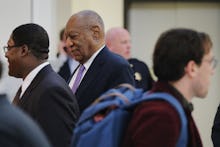 Bill Cosby's sexual assault trial entered its fifth day on Friday, hearing from two crucial witnesses for the prosecution.
Among them was Veronique Valliere, an expert witness called to the stand to help explain plaintiff Andrea Constand's behavior following her alleged drugging and rape. The prosecution asked Valliere to describe the psychology behind an alleged victim who survived an attack from a superior or someone held in high esteem in the workplace.
These hypothetical questions, of course, closely mirrored the dynamics at work between Cosby and Constand, who, at the time of her alleged assault, was an employee at Temple University, where Cosby was a trustee.
Valliere's testimony could also lend credibility to Cosby accuser Kelly Johnson's testimony, which included her admitting she was scared to speak up about Cosby's alleged assault of her since she worked at a Hollywood agency where he was the top client.
Here are three takeaways from the last day of the first week of Cosby's trial:
1. Cosby's prosecution is trying to build a case defending Constand's behavior in the aftermath of her alleged assault.
The prosecution introduced Valliere, a clinical psychologist who explained what behavior might be typical of a sexual assault victim following an attack.
According to USA Today, prosecutors asked Valliere — who has treated both victims and assailants — a series of hypothetical questions about a victim whose attacker is well-liked and respected in the workplace.
Valliere said it's not unusual for victims to reach out to their assailant after the alleged attack because they may be confused and are looking to get a "sense of clarity."
This psychological analysis boosted the prosecution's case by explaining Constand's behavior and assuring the jury that alleged inconsistencies in her testimony aren't reason to discredit the entire account.
2. The prosecution will continue to lean on Cosby's past deposition, where he apologizes and admits to digitally penetrating Constand.
Montgomery County Det. James Reape read aloud from the deposition Cosby provided to authorities in 2005 in court on Friday.
"I'm apologizing because I'm thinking this is a dirty old man with a young girl. I apologized," Cosby said in the deposition, according to USA Today. In the same statement, he admitted to penetrating Constand with his fingers, but maintained they didn't have intercourse.
Cosby's own words continue to be the prosecution's most damning evidence to date, considering the skepticism often projected onto alleged victims' testimonies.
3. There's still a chance Cosby could testify at the trial.
The prosecution rested their case Friday, which means the trial will be turned over to Cosby's defense attorney — who still isn't ruling out the possibility that their client might testify.
Cosby insisted in a May interview that he wouldn't testify during his trial, suggesting it's tricky to be absolutely truthful on the stand given all of the expectations for a testimony. He said at the time:
When you have to deal with examination, cross-examination, et cetera, et cetera, more than two sides to every story, sometimes it's four or five. And what people want to say and want you to say and how they maneuver, and, yes, I do have lawyers protect me — objection; sustained. But I just don't want to sit there and have to figure out what I believe is a truthful answer to whether or not I'm opening a can of something that my lawyers are scrambling.
The New York Times reported on Friday, however, that a spokesperson said Cosby may, in fact, testify.
If he does, it would certainly produce one of the most dramatic moments of the trial. For right now, we'll have to wait and see.
Follow Mic's coverage of the Bill Cosby trial in our main hub here.