This one big vacation mistake could haunt you long after summer ends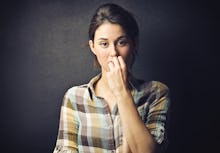 Planning for a summer getaway — doing something exciting like attending concerts around the world or backpacking somewhere off the beaten path? Kudos to you! But a key question remains: How are you going to pay for it? For many Americans, the answer is actually going into debt — not a great idea.
According to a new survey from MagnifyMoney, more than one in five Americans plans to borrow money to pay for their summer breaks, a trend that is "alarming," Magnify writes. The personal finance company interviewed 500 adults planning to go on vacation this summer to arrive at their findings.
Most of those who planned to take on debt said they'd use credit cards — 57% of those respondents — followed by personal loans at 15%.
Perhaps not surprisingly, those already carrying debt are more likely to say they'll borrow to pay for their vacation (30%) than those who are debt-free (13%). For those planning to take on debt for summer break, 71% said they already carry some credit card debt.
One reason for all this debt? The respondents are planning some expensive vacations. You might be surprised by how much respondents said they were planning to spend, according to their debt situations: $2,936 on average, and more than $4,000 for people planning on taking on debt at all.
As Magnify points out, depending on the vacationer-borrower's ability to pay back their debt, these costs could climb even higher — and linger.
"Let's say a person pays for their vacation expenses on a credit card with an average APR of 16%," Magnify explains. "They spend $1,670. If they make only minimum payments each month, it would take them over five years to pay off the debt, and they would pay $822 in interest charges."
What's surprising is that some people don't even want to go on vacation: 31% of the respondents said they "feel pressured to go on vacation even though they'd rather pay off debt." For those planning to take on debt, the peer-pressure climbs to 46%. Millennials are planning to spend the most on vacations — and take out the most debt, Magnify found.
However, 71% of millennials planning to go into debt for vacation said they'd be willing to skip summer vacation to pay down debt, compared with just 40% for people aged 35 and up. Rather than take on a debt, here are three better ways you can make sure you get a good deal on your summer vacation.
1. Plan, plan, plan
It may be too late for this summer, but start thinking about autumn travel: If you plan far ahead enough, you'll be able to save a ton, especially on the most expensive part of traveling: transportation.
Experts suggest booking more than two months ahead, and using several other flight hacks (some good ideas are described here). You can also set up alerts on sites like AirFareWatchdog to see when prices go up or down on plane tickets for places you want to go. You may also want to make sure you have chosen the best travel rewards credit card for your spending habits — to maximize savings on flights and hotels.
2. Make savvy choices
Ask yourself, do you really need to visit Paris? Or do you really just need to go anywhere you aren't right now? Check out Mic's list of 10 destinations with airfare set to drop in June. And Travel and Leisure has put together a great guide to the cheapest times to visit cool cities like Stockholm and Dublin.
Finally, note that Americans may overlook Canada and Mexico, which have currencies that exchange favorably with the U.S. dollar and are close by, meaning transit, food, lodging and entertainment will be cheap.
3. Earn cash while you travel
Hopefully you can rent out your pad while you're gone. But many leases don't allow this. What they may allow, however, is renting out your parking space.
Better yet, rent out your car while you're gone, using Turo (formerly RelayRides). Also consider taking on paid gig work as you travel, especially on longer trips. You can, for example, submit travel photos to websites like Shutterstock and iStock, which will pay you if your snapshots get downloaded.
Sign up for The Payoff — your weekly crash course on how to live your best financial life. Additionally, for all your burning money questions, check out Mic's credit, savings, career, investing and health care hubs for more information — that pays off.