CNN drops show host Reza Aslan after "piece of shit" Trump tweet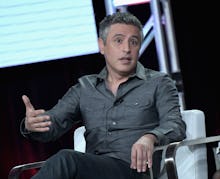 CNN has not renewed show host Reza Aslan's program a week after the host was forced to apologize for calling President Donald Trump "a piece of shit" for Trump's response to a suicide bombing at a concert in Manchester.
"CNN has decided to not move forward with production on the acquired series Believer With Reza Aslan (season two)," a CNN spokesperson said in a statement. "We wish Reza and his production team all the best."
Variety was first to report the news.
The news comes a week after Aslan had to apologize for calling Trump a "piece of shit" in a tweet. The tweet, which has since been deleted, read:
"This piece of shit is a not just an embarrassment to America and a stain on the presidency. He's an embarrassment to humankind."
Aslan later apologized and said he "should not have used a profanity" to refer to Trump.
In a statement, Aslan said he was grateful to CNN for the opportunity to launch Believer on the channel but that he was nonetheless "very disappointed" in the decision.
"[I]n these politically charged times, the tenor of our nation's discourse has become complicated, and I recognize that CNN needs to protect its brand as an unbiased news outlet," he said in the statement, which he also posted on Twitter Friday. "Similarly, I need to honor my voice. I am not a journalist. I am a social commentator and scholar. And so I agree with CNN that it is best that we part ways. I look forward to partnering with another platform in the future to continue to spread my message. I wish CNN all the best."