Donald Trump says he's "100%" willing to testify under oath about James Comey meetings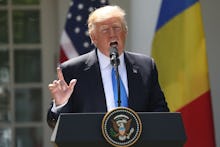 President Donald Trump on Friday said he's "100%" willing to testify under oath about what was said in his meetings with former FBI Director James Comey.
Trump made the assertion during a joint press conference with the Romanian president, Klaus Iohannis, in the White House Rose Garden, at which reporters questioned Trump about Comey's testimony a day earlier.
Trump got defensive when asked about Comey's testimony, accusing him of lying under oath about their interactions.
"I hardly know the man," Trump said. "I'm not going to say, 'I want you to pledge allegiance.' Who would do that? Who would ask a man to pledge allegiance under oath?"
Aside from saying he's willing to testify under oath about his interactions with Comey, he also said he never told Comey that he "hoped" Comey could let the investigation into former National Security Adviser Michael Flynn go.
"I didn't say that," Trump said, which amounts to accusing Comey of perjury — or willfully lying after taking an oath to tell the truth.
Trump went on to add that, "there'd be nothing wrong if I did say it," referring to an ask to let the Flynn investigation go.
Reporters also asked Trump about whether he taped his conversations with Comey, as he suggested in a tweet last month.
But Trump refused to answer.
"I'll tell you about it over a very short period of time," Trump said, referring to the tapes.
Trump added that, "You're going to be very disappointed" with his answer — not saying either way whether the tapes existed or not.