Wholesome 'Overwatch' Memes: This subreddit will make you happy — we promise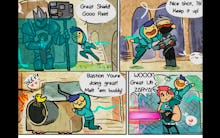 Did you have a bad week of placement matches? Did you join a match with three snipers and no tanks? Did a Genji player complain about bad healing but then play on the other side of the map as the rest of your team? If any of this applies to you, you might be drained of Overwatch.
Well we have the solution for you: the "Wholesome Overwatch" subreddit is the online location for all things nice and pleasant that have to do with Overwatch.
After five minutes on the Wholesome Overwatch subreddit, you can't be tilted anymore
This subreddit is the perfect place to go when you're tired of the horrible people who like Overwatch. It's a place exclusively for positivity and happy stories among players. Here's some of the posts you can expect on the subreddit.
Posts like this, that have fan art and an encouraging message, are popular on the page. This particular one shows Tracer — specifically in her new anniversary skin — running around to her teammates, giving them compliments and being a positive attitude.
In the caption of the image, the artist advocates for being nice in competitive matches so that people perform better. Super simple and super sweet.
You can also expect to enjoy adorable pictures like this. A D.Va cosplayer presumably meeting a little Mercy cosplayer. What's not to love? All the comments on this post are filled with support and some people even sharing their own stories. Like this story from user High Stream:
"I've done a couple conventions dressed as Link, and one of my favorite parts is when little kids want a picture with me. There's something more pure, l guess, when kids get excited about something."
Maybe most important is seeing players support other players in their endeavors. In this GIF, you can see one player intentionally losing a 1v1 match so that another player can get a loot box — something they've been trying to do in this mode for a while.
All in all, you can find a diverse range of positive posts on the Wholesome Overwatch — and with how some players act, you're going to need to bookmark the page for quick access.
More Overwatch news and updates
For more on Overwatch, check out the rest of what Mic has to offer. Here is an essay about how Efi Oladele was a missed opportunity for Overwatch, a deep dive into the issue of sexual harassment in Overwatch voice chat, an unintentionally hilarious infographic showing the most popular Overwatch characters in each state, a criticism of Blizzard's failures in its design of Symmetra and a dive into a cool trend on Tumblr that converts your most-played heroes into a psychedelic illustration.