House Intelligence Committee sets deadline for Trump to produce taped Comey conversations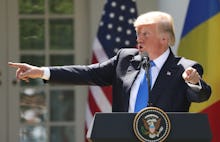 Leaders of the House Intelligence Committee's Russia investigation set a deadline for President Donald Trump to produce any taped communications between Trump and former FBI Director James Comey, saying if the tapes exist, Trump must submit them to the committee by June 23.
The deadline comes as Trump and top aides have continually declined to comment on whether tapes of those conversations — which Trump suggested he had — are real.
At a joint press conference with Romanian President Klaus Iohannis, Trump told reporters he would announce whether tapes exist "over a very short period of time."
"You're going to be very disappointed," Trump said.